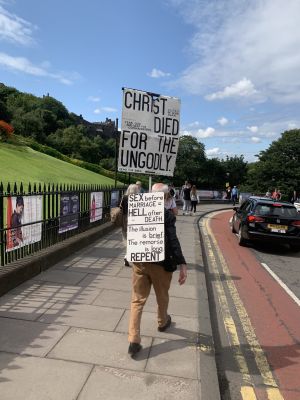 6090/19019
At 7.30am I'd already been up for two hours, but it felt like infinity hours. My God it's lucky that I am not drinking this Fringe.
It's a punishing schedule, as I try to get all my prep and other work done post 7pm when the kids are asleep and (for the moment) and trying to entertain the kids whilst letting my wife have a lie-in (she didn't really take it today though), then off to do my show, and then straight back to take the late afternoon and early evening slot. And then doing my prep and other admin (eg this fucking stupid blog). I am not socialising (beyond chatting to people on stage plus anyone I happen to bump into on the walk there and back) and I am not seeing shows, except for some kids' ones in the morning.
And I don't even mind.
All those years with Fringe FOMO when I could easily have been taking part with just a tiny bit more bravery and a smidgen less social awkwardness and now I don't even care what's happening out there.
My only fear is that I have nothing to talk about in my opening monologue or any notion of who is doing well and would thus make good guests.
But Edinburgh being Edinburgh a 30 minute walk chucks up enough stuff to do a bit of stand up about.
Today I found myself descending the mound (not a euphemism) behind a man with elaborate sandwich board, who was foolishly trying to promote something not directly associated with the Fringe, whilst everything else was about the Fringe).
"Sex Before Marriage = HELL after death", he warned us. Well, a bit late for me mate. Where were you 33 years ago when I more or less popped my cherry. Or 32 years ago when I did it for a second time.
It gave me something to talk about at least -and as John Robins would point out, as long as you never get married then God can't get you. Loop hole.
I have no remorse so far, but get back to me when I am burning in Hell. Though I can't imagine that in that situation memories of pre-marital sex won't be a big part of getting me through it. And I'd still be burning in Hell in spite of the sex. So at least I'd have had some sex.
And some material for the opening monologue, so thanks God, for letting that land in my lap. The chats with
Snjólaug Lúðvíksdóttir and John Robins were fun, though John's one was mostly quite serious.
You can hear it here.
Tickets for John Robins' Hot Shame here
RHLSTP guests and tickets here