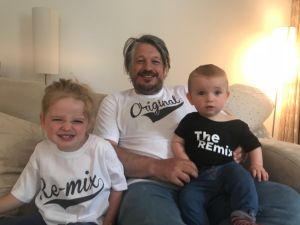 5682/18702
My fourth Father's Day as a father (and first as a double father) started well, with a lie-in, followed by breakfast in bed and a gift of matching T-shirts for my daughter and me (and a baby-grow for Ernie) with my saying "Original" and hers and his saying "Remix". It was charming and lovely, although I was disappointed that I didn't receive anything with "Best Dad in the World" written on it, so clearly the T-shirt was a way to soften the blow that I have lost that title. But when you think of all the competition, getting it three years in a row (especially the first year when I'd only done four months of actual fathering) is pretty impressive.
Phoebe is starting to understand stuff like this more now and I even heard her asking her mum at bedtime "When is my day?" I am proud of her.
I made a roast chicken lunch to celebrate myself and the wonderful fathering work of Catie's dad and after that had gone down we went for a walk in the bluebell wood, which is now, of course, bereft of bluebells and at least partially full of nettles instead. It's quite a change.
Phoebe is taking after me by becoming obsessed and fascinated by death and enjoyed pointing at fallen trees and saying they were dead, whilst occasionally pointing at a non-fallen one and saying it was new. So if she thinks those are opposites she might not yet have grasped the fact that those women on those buoys might now resemble the sand they once gamboled upon. The woods are an eerie place though where one must confront life and death, reality and magic. I was quite fascinated by the trees that had died and fallen, but only as far as the next tree that had caught them in their branches. How awful to have to spend months and years and maybe the rest of your life holding the corpse of you deceased neighbour.
I got bitten by a horse fly. I am not a horse. Stupid fly. You had one job and it was in your name. Well maybe two jobs, but the other one was also in your name.