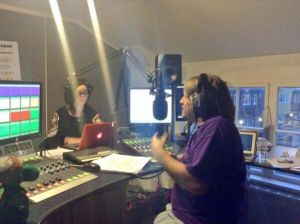 4176/17095
The May 1st weigh in came in at 86.5kg, meaning I managed to make a tiny loss in April of 0.2kg (but an impressive 1kg down on last weekend! And 8.9kg down on January 1st) Annoyingly yesterday I was 86.2kg so it could have been almost respectable, but it's good that it's not an increase and my resolve has strenghtened and I hope I will be under 85kg by June. But we will see.

An exciting night as it was our first ever live show on Fubar. That shouldn't have made all that much difference as we've done all the others as live, without any editing, but it meant there was no safety net, but also that we'd be able to talk to some of our five listeners. We weren't anticipating it being much different than any of the other shows, but as I sat down in the hot seat and set up all my stuff the computer screens all went off. Luckily the mics and the records continued to work, but for the opening of the show I was flying blind, whilst the technical team scurried around trying to work out what had gone wrong. It transpired that Lou had blown a fuse (not for the first time) when she plugged in her computer. This also had the knock on effect of meaning that the phone connection got screwed up, so we had to deal with quite a difficult sitution. But luckily we're all about seeming amateur and half-arsed so it suited us well. And in the end we did talk to some of our listeners, as well as a man called Edward who had not listened to the show but seen the number on Twitter. It was ramshackle and fun, but we didn't stop til 10pm and I was quite tired by the end. And hungry. But I didn't eat anything before bed. I've got some weight to shift!
Apparently now you can download the shows from the Fubar app, which hopefully makes the whole idea a bit more usable and appealing. Some funny stuff happened tonight, though most of it felt like we were being pranked (though I am sure we won't). Lou ended up being given a day old cold cup of peppermint tea instead of the green tea she'd asked for, on top of all the malfunctions and unusual phone calls. I would love it if the whole station turned out to be an elaborate Gotcha though.
We coped with all that the ghost of Noel Edmonds could throw at us (the real Noel Edmonds died in the late 90s) and will be back next week, though not live that time. But hopefully again before too long.

Free audio of RHLSTP with Susan Calman is now up on the British Comedy Guide and iTunes.