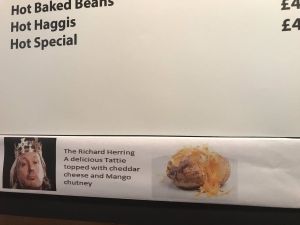 6093/19022
A bit more energy today and my legs didn't feel heavy on the walk in or the walk home, even though it was pissing down with rain in both directions. It was a really fabulous podcast - I think the best of the Edinburgh run. As with yesterday there were 272 people in (the average audience for the first 9 shows is 204 and the current average over all 21 is 150, so I think we're on target). My guests with Isma Almas and Tony Slattery. Both were fab, but Tony was particularly electric. I'd seen him interviewed at the Bristol Slapstick Festival where he had been occasionally lucid and occasionally slightly more manic and unpredictable, so was ready for this to be a tough one to keep in control. But I needn't have been concerned - Tony was amazing, human, honest and funny and we got into quite some depth with his rise and fall and return. He is the sweetest of men and has been a victim of the uglier side of showbiz, which loves you on the way up but turns it back when things go wrong. But he's got some lessons to teach us all and you'd had to have a heart of stone not to wish him some luck. Just listen to the podcast. It's lovely.
I did some stuff about Prince Andrew and producer Ben wasn't around to bleep it. I would never kill myself though, so if I am found dead in unusual circumstances then you know who to blame.
And in even better news I've heard from a few sources that the Tempting Tattie has made all my Edinburgh Fringe dreams come true and finally added the Richard Herring to its menu (admittedly on a photocopied piece of paper). This is better than any Edinburgh award and indeed means that I no longer have to come to the Fringe or carry on doing comedy because I have achieved the highest possible accolade.
Final guests being announced and tickets for RHLSTP here