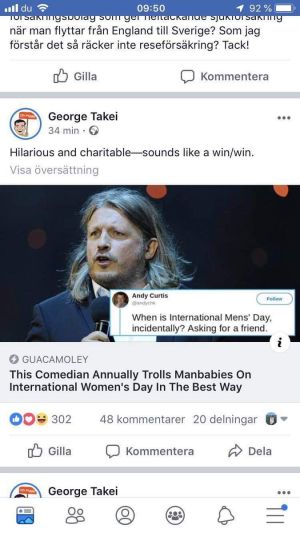 5942/18962
Some people on social media think that the International Women's Day thing is all a stunt for me to get publicity. As I've said before there would be easier ways, but my least favourite thing about it (and there's lots that is annoying about it, like having to do it at all) is the attention it brings to me personally. I am very keen to highlight the work of Refuge and also to let people get on with celebrating International Women's Day and (on the day) International Men's Day. I sort of like being allowed to carry on with all the stupid things I do without anyone really paying proper attention. Which given the way my career has gone is quite lucky.
Also as I said before too, if it was an attempt to gain publicity and work, it's failed pretty badly. No one will employ me but myself.
But this morning my nephew's wife (niece-in-law?) sent me a screen grab of George Takei from off of Star Trek linking to an article about the publicity stunt… I mean arduous endeavour… saying "Hilarious and charitable… sounds like a win/win." Which I have to admit is pretty cool. I have made Sulu laugh. I didn't do this from validation but I have got it. And from a member of the original crew of the Starship Enterprise.
Someone tweeted that this made me an internationally-known comedian (one in the face for the Cheddar Valley Gazette, who thought I was only nationally-known) but I said that it made me intergalactically known.
Of course this was the cue for some Star Trek fans to let me know that the Enterprise never travelled beyond our own galaxy, but I felt sure that some of my nerdier fans would be able to prove that hypothesis wrong. After all the Enterprise crew did not have to travel beyond this galaxy to spread the news about me, merely meet someone from another galaxy and tell them and allow them to relate this information back to said galaxy. And given the various time travel elements in the programme and the long lives of some of the characters that didn't have to actually happen in original Star Trek. All is took was someone who had met Sulu to meet someone who has met someone who has met, for example Q and then the information could have travelled to anywhere in the Universe. It says a lot about me and about Twitter that his group conversation went on for some time. No one pointed out that at no point in Twitter does Sulu mention why March 8th marathon or indeed the fact that George Takei is merely an actor or that everything that happens in Star Trek is made up. But I think by the end of it, we could all agree that I am an intergalactically known comedian AND that this was the only reason I started doing this in the first place.