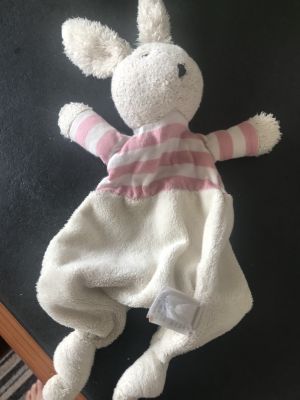 5679/18699
It's about a little girl called Izzy who can't keep still and likes fussing and fiddling, which lands her in a bit of trouble when her class visit a zoo. I don't want to give any spoilers, especially when the title makes it explicit that you should never tickle a tiger, but Izzy does tickle a tiger and it doesn't end well. Though not as badly as it might have done.
When I read the story I change the name so the story is all about Phoebe, which is trickier than it seems as the name Izzy comes up loads of times, but I am up to the challenge and only make about two mistakes a book.
But my wife has been reading the book to Phoebe for a couple of nights and Phoebe has asked that she change the heroine of her story to her favourite bedtime toy, Fluffy Rabbit.
The tiny toy is an unlikely protagonist, who doesn't look like it could ever get into trouble, especially for fidgeting, but Phoebe is deadly serious about it. It is not a joke.
Unfortunately if you change Izzy to Fluffy Rabbit on every occasion, it becomes unbearably funny. Partly because you're imagining this inert and innocuous cuddly bunny being chastised and partly because Phoebe gets annoyed if the reader is laughing at the story, especially uncontrollably. "Stop laughing," she'll say because we are ruining what she thinks is an excellent story about her favourite bedtime friend.
Not being allowed to laugh makes it all the more difficult not to laugh of course.
Perhaps you have to be there. Or to know Fluffy Rabbit personally.
But to give you a taster:
"Fluffy Rabbit was forever shuffling and jiggling, squirming and twitching, wriggling and fiddling. She just couldn't help it.
It happened at home "Fluffy Rabbit, STOP playing with your peas!" said Dad.
At School "Fluffy Rabbit, STOP painting your pigtails," said Miss Potterhurst.
At Grandma's "Fluffy Rabbit, STOP knotting my knitting," said Grandma…"
Well you get the idea. But we haven't managed to get through the story in the last two nights because of two adults reduced to tears and a tiny girl giving us very hard stares and telling us off. It's definitely going to be one of the happiest memories of parenthood I am going to have. And I don't think it will ever stop being funny.
It's a brilliant book without the change of heroine, but I feel putting a Fluffy Rabbit in every book I read might be my new favourite thing. Give it a go. Of course Fluffy Rabbit can only replace one character (preferably the main one). Anything else would be unrealistic.