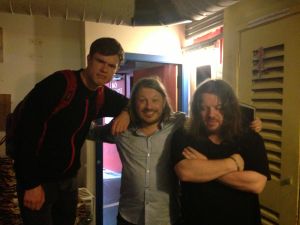 I had a terrible night's sleep after drinking the least amount of alcohol I'd had for a fortnight. The only conclusion I could draw was to drink more. I had had a late night sausage sandwich (not a euphemism) so maybe that was to blame. I was in a weird state of mind. I woke up at 5am and didn't get back to sleep until 9.30. I had an hour long snooze when I had a weird dream about doing my podcast on a massive hot air balloon that was taken over by fundamentalist Christian terrorists. It was very realistic, but my main fear was falling out of the balloon and that my sobs of fear would turn up on the recording. Would it all come true? No.
Today's podcast was with the weak and frail double act Proctor and Gambon. One of them has kidney stones and fainting fits and the other has diabetes. It's remarkable that they have the energy to perform at all and it would be rude to comment on the standard of their comedy. Let's just applaud them for being brave enough to get up there and try.
It was an act of magnanimous charity to have them on my show and I hope you will download their podcasts to make them think they're popular. You don't have to listen to them. In fact I would strongly advise you not to.
It was a fun battle of the idiots though. Listen to it here.
A friend from school was in town and it was his birthday so we went out for a drink tonight. I hadn't seen him for quite a few years and he was 46 today and his hair was whiter than the last time we'd met and he looked older. Not like me, with my brown hair and young face and athletic body. Amazing how different genes can be. We reminisced about events and people from thirty years ago. Those days were so important to the person I became, so amazing and so horrible and me and my friend had had some of the best and worst times together. And here we were again, having skipped forward in time in what felt like an instant, coping with the changes and then even harder coping with the things that hadn't changed. I haven't got pissed this year, but have been edging my consumption up unit by unit on a nightly basis. But tonight had two pints and three whiskies, only one more unit than last night.
I managed to charm my way into getting him and his wife and his friends into the Udderbelly Abattoir bar, even though we had only one pass between us. It was fun.
Then my wife and I foolishly headed out for a late night curry. Given the nightmares a sausage sandwich had foisted upon me, a chicken jalfrezi was just asking for trouble. But it's been nice to have some semblance of a social life in this rather unforgiving schedule I have given myself. The only time when I am not prepping for a podcast, or doing a podcast or uploading a podcast or doing a stand up show if the hour and a half between 5 and 6.30 where I usually end up watching Pointless to help me relax. At the greatest arts festival in the world I am watching Pointless. Which is apt in so many ways. But a solid three weeks of this regime with no day off has taken its toll and I need to preserve my energy for my frantic and frenetic evening show. I have been told that the sales for this were up on last year, but suspected this was not the case as it felt about the same to me and I had that confirmed tonight, which is slightly disappointing. It feels like a good show and the punters mainly like it and the press has been great, but still I am hidden away like a badly kept secret. There's much that I like about being a secret, but tonight I felt slightly down about the fact that a 22nd Edinburgh has passed without having a show that is an out and out hit. I have come close in the past and gradually my reputation increases, but it's been a long haul, both getting through this relentless Fringe and the others before it. These self-indulgences hit at least once a year and perspective returns in time, but I would have loved to have ended the Fringe with a run of sell-outs. But I have a feeling that that is something that will no longer happen for us acts in the middle. The big stars sell out and the free Fringe takes its share of the audience, but a 340 seater venue is unlikely to fill up too often, because it's too small for the big stars and too big for the new stars.
It's all good really (and the podcast is doing about twice as well as last year, so there's nothing to really fret about), but you know it wouldn't be the Fringe without some kind of dip. And this was a very minor one. Part of me feels like ten shows in ten years might be enough and if I haven't cracked it by then, then maybe it's time to stop. But you know the other part of me will win this battle and I will be back next time. Another part of me wants to do the podcast, as stand up show and a snooker show and maybe another avant garde Mars Bar based show. But perhaps the compromise next year will be just the one show. And a bit more time to drink with friends and sleep and go and see other stuff.
Perhaps.
Still had a cracking time this year though, even though I feel close to breaking point now.