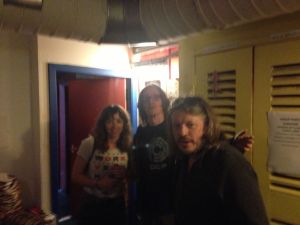 Tonight's We're All Going To Die! couldn't have had a more different reaction than last night's. It's still incredible to me that the same show can get such a different response in two consecutive performances in the same venue. The crowd lifted me out of my exhaustion and I think this was the best I have done everything (with the possible exception of the Hamlet bit as I was flagging a bit by then). I felt an actual emotional response off the crowd at the end too. It was my most enjoyable performance of this Fringe and also the hottest. I had sweat dripping into my eyes.
Only two more chances to see this show at the Fringe, but then it's going on a on and off tour over the next few months, including London in October. All the details are here.
It's going to be a busy year (is there any other kind?) with some exciting stuff coming up. I have started booking the September/October RHLSTP dates. There are no names I can confirm, but I have three massive names pencilled for the 28th October (the only date any of them can do) - only two will be able to do it and none of them are 100% confirmed, but it seems incredibly unlikely that I won't get one of them. I am hopeful that all four autumn dates will have knock-out line-ups, so book now if you want to be sure of getting your seats. These will, of course be available as free podcasts and paid for videos.
And also coming up, starting in November, a project I am very excited about, Richard Herring's Meaning of Life, six especially written stand-up shows, filmed exclusively for video download. As this is going to take a lot of time and effort these will be pay to view only (though might release some kind of audio podcast extra content). If this works and makes money (I think it's highly unlikely that it will) then it might provide the springboard to all sorts of other projects. If it doesn't make money then I think it's still a great experiment. It's basically a TV show on the internet, but with total autonomy for the writer/performer. Chris Evans (not that one) and me are going to meet soon to discuss ways we might ask you to contribute to this (and RHLSTP). But for the moment, if you're in London or nearby you can buy tickets (only £10 + booking fee) from the Leicester Square Theatre.
Fail or succeed, it's going to be pretty exciting trying. Thanks to everyone at gofasterstripe for their help with this. It would be impossible to do any of it without their fantastic assistance.
I had a lot of fun on the podcast too with Ed Byrne who was more than willing to talk in depth about Pointless and Bridget Christie who I think might be one of the funniest people alive. I was determined to not mention her husband by name (which seems to be pretty hard for me to do even in the podcasts and shows she is not appearing in). You'll have to listen in to find out if I managed to. This is the link that will take you to the podcast.
Tonight was the Malcolm Hardee Awards, a self-indulgent, self-congratulatory extravaganza of madness. I was up for an award for best publicity stunt, for my free DVD giveaway. I knew I hadn't won, not just because it hadn't been all that successful a stunt - it's barely been mentioned in the papers and as glad as I am (and as grateful as some people have been) that I did this, no journalist took up the challenge to investigate where the hundreds of thousands of pounds made by the big lamp post and other posters goes or the somewhat shady practices that seem to underpin it. I don't think having the DVDs really sold me any extra tickets, but nor do I think that the lack of lamp post ads lost me any sales (impossible to know). I might try and do something similar if I do come back up next year. Because it's nice to thank the people who have turned up and this is a better use of the money than the posters, regardless of publicity. Remember you can buy the two and a half hour best of DVD at gofasterstripe if you couldn't make it to the show.
Anyway it was nice to be nominated for only my second ever Edinburgh award (one of my plays was nominated for the LWT writing award in the late 90s), but I was mainly there to once again play egg Russian roulette. Six eggs are in a box, five are hard-boiled and one is not. Competitors go face to face and smash the eggs on their heads in turn - whoever picks the live egg is out, with egg on their face. Last year I got knocked out in the first round. And the same thing happened this time, with me being forced to choose the final egg, though I was fortunate in that it got knocked out of my hand and mainly smashed on the table.
I also got to witness Mr Methane (a man who's act is all about farting - he is a petomane) shoot a dart out of his exposed arse (you also got a good look at his balls, if you wanted) and popping a massive balloon filled with talculm powder which was on top of a young lady's head. You do not see something like that every day. The spirit of alternative comedy is alive and well at the Fringe. Though in some cases I am not sure that that is a good thing.
I wasn't too upset on missing out on the award. After all tomorrow I will surely be picking up the Perrier Spirit of the Fringe Award. They haven't said anything to me about it, or invited me to the ceremony, but that's all part of their cunning ruse. Everyone's been saying I am the spirit of the Fringe and I can't think of anyone else who encapsulates that idea more than myself, and if anyone else did win it they would surely be too embarrassed to accept it, in the face of such overwhelming public support. I will, of course spend my £5000 prize money on assisting new acts coming up to the Fringe next year. It wouldn't be the spirit of the Fringe to do anything else, would it?

I bumped into Steve Coogan in the street on the way to the awards. It was genuinely lovely to see him again - it's been a little while. Twenty-one years ago we appeared on stage here together in "the dum show". Not sure what he's been up to since. I've hardly even seen him at the Fringe, so I guess stuff isn't going so well for him. But he seemed in good form despite the setbacks he must have faced and I am hopeful that he will appear in one of the Leicester Square Podcasts soon too.