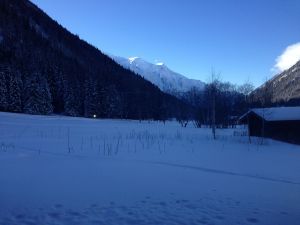 Day 17002
Blog 4083
We'd arrived after dusk last night, so it was quite a surprise to see the forest and mountains behind our chalet this morning, though enjoyable to watch the cross country skiers falling over and struggling to get up, even if my laughter was bound to be hubristic as the plan was to take my first lesson today.
We took it easy this morning and then set out to rent some ski equipment, though were thwarted somewhat by the fact that French ski shops shut for a long lunch. So we headed into Chamonix, but the shops were shut there too as the lazy French ski equipment renters counted their morning takings and then rolled around in their profits. So we sat in the square and had a coffee, looking up at the mountains towering above us.
Two o clock came and the shops were open again and we rented ski boots, skis and those little pole things. The ski boots were hurting my feet immediately. They're very heavy and I've had a dodgy ankle for a while now and that was aggravated. But its whining was evened out once we took a 15 minute walk up to the nursery slopes and the other foot started to hurt too. With my skis and those pole things over my shoulder and me moving slowly forwards, with my ankles aching I was trying to work out what this reminded me of. Then I realised that I felt like Jesus (not for the first time in my life), as he carried his cross to Calvary, Like Jesus I was aware that the suffering I was going through now was nothing compared to what was going to happen once I was up that hill. So even as I suffered through the walk, my mind was imagining how much more pain I would shortly be in. I felt a bit sick and in quite a lot of discomfort before we'd even started and this wasn't helped by reaching the slopes to see three-year-old children effortlessly skiing around. We had an instructor called Baptiste who told us that skiing was easy and that you just had to not think about it and it would be fine. I didn't think it would be easy and I couldn't stop thinking about it and I wasn't fine.He reminded me of my driving instructor and I thought that I might get a second (identical) comedy character out of this situation. "You can't even ski! My nephew is only tree years old and 'e can ski. Why can't you ski? It's easy." My legs were hurting loads and I fell over a few times and I couldn't get back up on my own (just like the idiots I had witnessed earlier). At one point I had to wait about five minutes lying in the snow as Baptise helped his other pupil and even the rest didn't help my aching feet. I felt like crying. Do people really do this for fun?
But within another twenty minutes or so I had managed to ski down a tiny slope and created a snow plough to bring myself to a stop. I hadn't got to use my poles yet, but I was doing a bit better and was enjoying it very slightly. We then had a rest, which became a bit extended as our instructor went off to assist some more proficient skiers in our party (including my wife) so us newbies lay in the snow and I tried to find an angle to lie at that didn't make my legs ache. There was no angle. I am not sure that skiing is going to be for me, but I am prepared to put myself through this again tomorrow. Even though, without hyperbole, what I went through was much worse than what Jesus experienced during his crucifixion and it's only going to take me one day to rise (and fall) again.
I think I will enjoy the apres ski more. If only because the relief from the discomfort of skiing is so pleasurable that it almost makes the pain worthwhile. And once we're off the slopes and out of our skis and sipping a beer in the bar then no one can spot the inept skier from the ept (though I reckon they could still have a crack at it if I am one of the choices). At least I had got through the day without serious injury or death, which I am taking as a victory. I think I might be happier sitting int the town square, drinking coffee and reading books, but maybe I will take to this a bit more for the rest of the week.
Ian (of course, Ian) @mightyblackout has worked out when I will have been writing Warming Up for a quarter of my life. It will come on entry 4307 on 10th September 2014 (it will be 25.0015% of my life). Entry 12,920 on 10th April 2038 will mark half my life having been recorded (I will be 70). And entry 38, 760 on 8th January 2109 will be the 75% mark (I will be 141 by then - by no means impossible with modern medicine, aside from it not being possible). If I can keep going until Saturday 28th November 5504 (entry 1,279,080) I will be 3537 years old but have posted for 99% of my life. I am not satisfied with 99% though. I am going for 100% which will involve either going on for infinity years or inventing some kind of time-travel device, going back and forcing the child me to write an entry every day. But I am sure those will be in common supply by 5504.