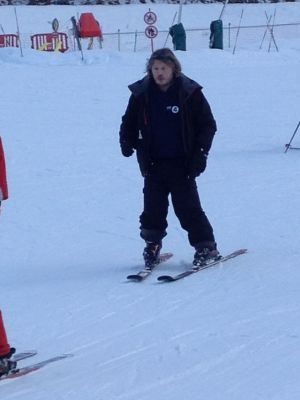 4086/17005
I was glad I had laid off the booze last night as it was an early start for my final skiing lesson. No sign of Alex on the slopes so I presume he is on black runs by now, but I moved off the beginner's teaching area on to an adjacent only very slightly steeper incline, but one that had to be accessed by a little lift where you tucked a disc between your legs and were then pulled up the hill. The first two times I came off the lift I panicked and fell over (and then later when a small child was in my way I steered into a fence to avoid him), but other than that I kept on my feet the whole time.
Baptiste our instructor (who is apparently one of the world's top skiers, which made me feel embarrassed that he was wasting his time teaching someone as rubbish and uncommitted to the sport as me) was trying to teach me to stop by turning up the slope. And I was actually nearly getting it, most of the time. For the second hour he went off with the others and left me to try and get better at this myself. I did find that I was largely able to manoeuvre to where I wanted to be, though felt that there was a possibility that this would be my last hour skiing in my life, so it maybe wasn't that vital. My boots were crushing my feet as usual and my ankles really hurt, but by the second hour I was enjoying things enough not to really mind any more. I had assumed that I would be so terrible at skiiing that I wouldn't manage to do anything without falling over and had been certain that I wouldn't master turning, but I had actually done OK. Not as well as a crying five year old child, admittedly, but I was still pleased with myself.
And the relief of getting out of the boots and taking all the ski equipment back to the shop (we're going to spend the weekend doing touristy things, and if we really feel like skiiing on Sunday we can always hire some more equipment) was so intense that I was almost euphoric. I realised that it was worth the three hours of discomfort and pain from lugging around all the stuff and having my feet crushed in order to experience the perfect happiness of not being lumbered with equipment and having crushed feet. If I hadn't skied today then I would probably have felt a constant line of mild content, but because I'd had three hours of discomfort I got to have five hours where I felt elated to be alive. It was an important philosophical realisation and perhaps this is why so many people seem keen to ski. No one enjoys the actual skiing part, obviously, but it's made worthwhile when the skiing stops. To truly get pleasure from our lives we must suffer first so that we appreciate what it is not to suffer. People whose lives involve only pleasure can never be truly happy in the way that those who have known intense pain will be when the pain has stopped (and I can't think of anything worse than wearing slightly uncomfortable boots that are hard to work in).
After lunch and the cheesiest omelette that I have ever seen (it actually looked more like a cheese pie, the egg was so expertly covered by melted cheese) we walked around town for a bit and then headed back to the empty chalet and I read by the fire and then had a bath. It's been a very social holiday, so it was a nice change of pace to have the place to ourselves. I was feeling weary from the skiing or maybe from the cheese intake and went to bed. I could have slept for hours but tonight there was going to be a party (though there seems to have been one every night of the holiday) as it was our friend's birthday. Last night, when drunk, there had been talk of hiring the band from the bar last night to play in our lounge, but sobriety and practicality had made us realise that would be fun for about five minutes and then quite irritating (especially if they kept on doing encores) and instead we had a fondue. Just what I needed: more melted cheese. Even though my blood was now 90% Brie the stuff was so damn fine that I couldn't stop eating it. It made the holiday feel even more Seventies than it had already been. Not only were we staying in a chalet unconnected to the modern world we were dipping bread into melted cheese, just like the people of that cursed decade had done when the fondue became a brief fad in the UK. I remember my parents having at least one fondue party and can recall the fondue set we had very clearly. But it was forty years since I'd last fondued.
The rest of the evening was quite relaxed and I enjoyed some local liqueurs and we played some games and laughed an awful lot. Some friends of the sky divers turned up including two men who were the Frenchest looking people I have ever seen. Had Asterix and Obelix walked in they would have been the third and fourth most French people in the room.

The more adventurous party animals decided to go for a night-time walk in the forest behind our chalet. I was glad to have the opportunity to slink off to bed. The group of people here is diverse in its bravery and its desire to party, but despite our differences we are all getting on very well. And luckily we have some very good ear plugs.

My hundreth column for the Metro newspaper came out today. As you can see I am astonished to be still employed in the same job after so long.