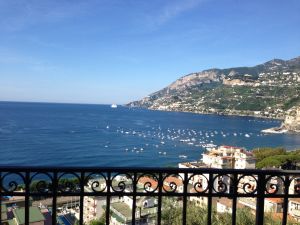 Another relaxing day at the hotel. Still inspired and calmed by the incredible view. I think I could happily spend the rest of my life here as long as kind Italian people brought be cappuccinos and beer every now and again. It's very easy to get used to this kind of luxury lifestyle (a taster of how the upper middle classes used to spend every day of their life ninety years ago) and amazing how quickly it turns you into a prick. I have very much been enjoying having a fresh peach for my breakfast every day. A couple of days they didn't have any peaches and I felt like I had just experienced the greatest injustice known to mankind. It's a signal lesson of how privilege can change the wiring of your brain. "What? I have to eat fresh melon instead? This is a fucking outrage. You're all sacked."
Today there were peaches. So the staff were able to relax, knowing their jobs were secure.
This is the perfect post-Fringe holiday destination. It's sunny all the time, but not scorchingly hot like it gets in the tropics and it's totally beautiful, but unlike the beach holidays we've been on before there are also lots of great things to go and see to keep the mind stimulated. It's great to have the choice. Today we chose to do nothing.

I sat by the pool and read the new Margaret Atwood book, MaddAdam. It is very considerate of her to release a book in time for my holiday. I magically downloaded from the ether (ebooks are fucking amazing - let's burn all the paper ones. Please buy paper Talking Cock books to add to your fire). It's the final volume in the Oryx and Crake trilogy, which are all really worth checking out if you haven't read them. She is a fine, fine writer. Better than the kind of writer who would use fine twice in the same sentence.
As always I am full of plans to turn my life around when I get home: work efficiently, get fit, read more. I already have so much work for the autumn that I probably need to get myself into more of a routine. And I have a surfeit of other ideas that I want to start working on, some of them viable concerns and others self-indulgent tosh, like the Goodnight Sweetheart reboot that I am seriously considering trying to write as a novel (there couldn't really be a bigger waste of time and it would amuse only me and a couple of dozen other people and break all kinds of copyright, but I still might have a crack at it).
Mindful of the half Marathon that I have to run in just over a month's time, I managed to get out for a short jog this evening. The hotel is perched high on a hill and I had to find the way down without using the lift. It was a long, narrow path with lots of steps that finally led into one of the back streets of Maiori. Downhill was easy and I started running down towards the beach, feeling fit and with the steps flowing nicely. As it was a bit packed with pedestrians and I was worried that I might forget the way back (and also concerned that running up a hill might be more difficult than running down one) I turned back pretty quickly. And the uphill part put paid to any confidence I'd had after the five minutes of descending. The sun was down, but the air was still humid and the effort of ascent made my lungs feel like they would explode. I made a decent attempt at running all the way, but had to stop and walk a few times. Admittedly there are no hills on the Royal Parks Half Marathon, but I will also need to run for a lot longer than ten minutes. But the downhill bit was easy, so as long as the whole 13 miles is downhill then I will be laughing.
I will have to attempt this again a couple more times. If I can get back up the hill without feeling like I am about to die by next Wednesday then I may be in with a chance. If you want to sponsor me in this assisted suicide attempt, visit my virginmoney page. All the money goes to Scope. If you all gave just a couple of quid that would be a fantastic incentive for me and raise a huge amount for this brilliant charity. You can give more than a couple of quid if you like (or indeed give nothing). But all donations or words of encouragement are appreciated. I think this will be the last long run I do. My knees seem to be holding out fine, but one of my ankles is a bit dodgy.
We went out for dinner, to a restaurant that we'd been to before where we had been treated well and had good food and where they'd given us free bruschetta and booze (see, doing a good job works tourist-based businesspeople). I was going to have a day off boozing today (something I don't think I've done for a month now - though my intake has rarely been excessive) but we had a bottle of wine (from vineyards on the slopes of Vesuvius) and then decided we should try the local liqueur, Limoncello. After we'd ordered we noticed that the waiter was giving people at other tables free glasses of Limoncello. But we'd had a good time and didn't resent the fact that we'd paid for some. It was an interesting to drink to have a sip of, like a lemon sorbet slightly melted down and infused with booze, full of sugar but with a zesty kick. One glass was more than enough of it. But then the waiter brought us our complimentary Limoncello. I might have preferred it if the one we'd ordered had been free, but now I felt duty bound to force another one down. Two Limoncellos are definitely too many. I felt drunk and bloated, but it was still a nice gesture. So this time we were happy to pay for our meal and leave a nice tip.
We rolled back to the hotel and sensibly took the lift rather than attempting the run up the lane. I was nearly sick anyway.