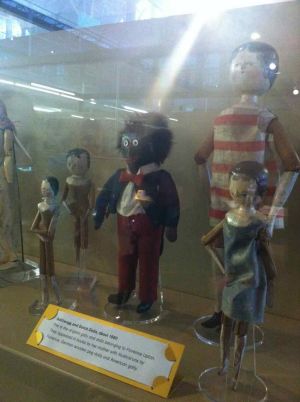 I went to the
V&A Museum of Childhood in Bethnal Green
this lunchtime to talk gollies with the Collections Manager, Catherine Howell. It's for the Richard Herring's Objective show. I have not gone mental. It is a cracking museum in a big building which echoed with the sound of shouting children and worth a visit if, like me, you resent the fact you ever had to become a grown up or if you enjoy the tug of nostalgia that comes from seeing familiar, half-forgotten toys that you haven't thought about for 40 years (vary this figure depending on your own age).
We got to go behind the scenes to see even more toys that were not on official display. It was oddly moving and disturbing to see dozens of battered rocking horses coralled into a caged shelf and then I would let out a little yelp of delight as I spotted some obscure cartoon character or familiar toy in a display case. Perhaps those echoing ululations had actually come from adults transported back to a less sensible time.
I knew most of the history of the golly, but Catherine was very eloquent and knowledgeable and though a serious and academic looking lady was also up for a bit of silliness and fun. I asked her if it was difficult to get on with her job with all these toys around and didn't she give in to the temptation to just spend her whole day playing with them - that's what I'd do if I was her- but she said she didn't really get the time to do that. But I think she was lying. I think that she plays with them all the time, especially at night when they all come to life. Why would rocking horses need to be in cages if that wasn't the case? Think about it people. It makes no sense. You wouldn't want those mad-eyed creatures roaming free, looking for the child who had desecrated their mane and scratched out their eye.
I got a bit of a surprise halfway through the interview as Catherine revealed that the original Golliwogg (that was the original spelling) and the Dutch Dolls from the stories created by
Florence Upton
in the late 1890s, was actually in the museum. I had no idea that they were still around or that the V&A had them and after all this research was weirdly intrigued and excited to be seeing the doll that kicked this whole thing off. As the stories were based on a doll that the Uptons had had I wondered if the "minstrel" doll had been popular before the stories, but Catherine said she knew of no other example. It looks like quite an ugly doll in the photos I have seen, with a leather face (which makes it look like something from a horror film) and button eyes, although it does have a nose unlike most other gollies and its mouth and eyes are in proportion and not grotesque caricatures. Though the minstrel clothes it wears do point towards the real life and somewhat offensive caricature of the foolish, black-face theatre act.
Upton recalled how the Golliwogg had been treated when they were children, "Seated upon a flowerpot in the garden, his kindly face was a target for rubber balls... the game being to knock him over backwards. It pains me now to think of those little rag legs flying ignominiously over his head, yet that was a long time ago, and before he had become a personality.... We knew he was ugly!"
Yet Upton allowed the doll to triumph over bullying and outward unattractiveness by making him a rather heroic figure in the books. When critics wondered how "anything so hideous should please and even fascinate children", Upton responded that although she agreed he was ugly, children "see his beautiful personality".
Which is nice isn't it.... but you know, still....
So it was quite conflicting to go and see the original doll, who was much smaller than I imagined (he is made bigger in the books) and consequently a bit more vulnerable. He is undoubtedly weird looking, but I actually felt a bit sorry for him. Maybe I was star stuck (like I was
that time I saw the original Clangers
) but it seemed sad that this peculiar and terrifying toy, which had been originally intended by the author to be a hero in the face of bullying and judgement, had spawned a racial slur and a slew of increasingly unpleasant dolls and then less chivalrous and heroic characters (thanks Enid Blyton, you massive racist). It's a very hard one to call. The doll was perhaps created by someone knowingly or unknowingly exploiting an unpleasant racist stereotype, but then Upton managed to transform it into something else (and Golliwogg and the Dutch dolls from the stories were sold by the Uptons during the first world war to provide money for an ambulance - the doll did some actual good), but then the world at large managed to turn it back to something more hateful. This really is a fascinating and confusing first subject for the opening show of series two of Objective, even though it's only a couple of days away I am still not certain what I am going to conclude about this one - and I have to do three more of these in the next three weeks. What a rollercoaster October is going to be!