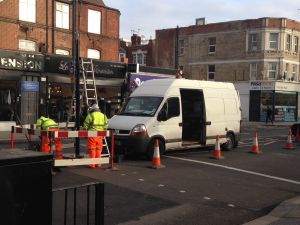 4030
I am old and thus eligible for a free NHS Health check. If you're over 40 (and under 74) then you can get one too. The lady who stuck her finger up my bum the other week advised me to have one and I thought that was nice of her. I'd given her a special treat and now she was rewarding me. Quid pro quo. Or Prod quid pro. Or something.
The nurse took me through all the tests very efficiently. She'd had trouble getting blood out of all her other patients today, due to the cold (it's a finger prick test - luckily not the other way round), but my blood flowed freely. The good news is that I don't have diabetes (which I celebrated by eating a whole kilo of sugar), the not exactly surprising news is that I am overweight and need to lose a quarter of my mass in order to be the healthy kiloage for my height and the bad news is that my cholestrol is a little bit high. The computer worked out that my heart age is 51 (they do a mind age test too by saying "poo" and seeing if you laugh - I came in as 4), which is five years older than I am. I thought that meant that my heart had somehow travelled forward in time. I wonder what it could tell me if it could only speak (and feel). Then I realised that I was being stupid, it was much more likely that my heart had been created five years before me and hung around in my mother's womb until the rest of me developed. But the nurse seemed to think it was more about my diet, advising me that if I lost 25 kilos and drank a bit less my heart would only be 41. I don't know what necromancy this was, but it seemed like it would be something worth doing, even if it meant obliterating a quarter of me.
It's good to be reminded that I am not immortal (and despite my current show I still think I am most of the time) and that I need to start watching what I eat and drink. But mainly I just need to exercise more. It's time to instigate the kind of fitness regime that I had in 2008, though even then I got nowhere near that ideal weight, but the incentive of being older than my heart is too strong to resist. I'd obviously ideally would like to know how to take 20 years off the age of my gnarled and weary genitalia, but like I said there was no prick finger test, though I understand there are pills that can give that a temporary leap through time. According to the Matrix if you take the blue pill then the story ends. I don't know who to believe.
None of this is too worrying just yet. And you know how I love a challenge. To make 2014 the year where I destroy a quarter of myself in order to save the other 75% might be a good one. And if I can't do it through diet then I can do it by lopping off a leg and one buttock, but I could do a sweepstake on what weight I will be on 31st December 2014. Send in your guesses to herring1967@gmail.com (in kilos) and whoever gets the closest will win a prize (possibly my severed buttock) - if I am dead then the competition is forfeit, unless you can persuade the authorities to exhume my corpse and weigh me. I will be insisting, of course, that my death weight is recorded on my tombstone.
Maybe I should spend the rest of 2013 getting up to 100Kg so it will make the percentage lost maths easier??

On the way to the doctors I was amazed to see that workman had already arrived to repair the broken traffic light. I thought it would be leaning over until at least 2014 but it's proud and erect and has the exterior of a 0 year old, though the heart and workings (I am guessing) that is much older.
And there are now RHLSTP (and Me1VsMe2 mugs) available to buy, along with the T-shirts and hoodies at cottoncart.com.