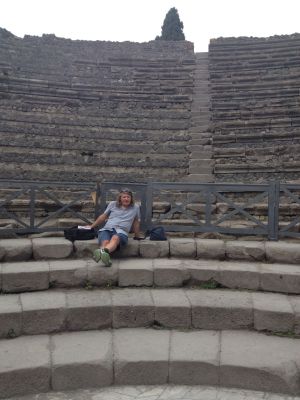 Another trip today, as we try to pack it all in with just a couple of days til we come home. I am now a master of the buses and trains (or so I thought) and we made it to Pompeii via a bus to Salerno and a train to Pompeii in super-quick time. My memory had been that the train station was right by the exacavation site, but we had to walk for 20 minutes and ended up going to a minor entrance where they didn't have audio guides. But we figured that was OK. We know a fair amount about the site and Roman history and given there is so much to see we thought a guide might slow us down. So we just used a map and our own cunning.
And coming in the back entrance does have some advantages, as the Italians have known for some time. I saw parts of the city that I had never ventured to before, including the Ampitheatre. Luckily it was the cloudiest day of the holiday so we weren't baking in the sun as we had been at Herculanium and it was fun walking fairly aimlessly through the back streets of the city, making our way towards the forum, which has always been the starting point of my other visits. This is the third time I've been here and though it's maybe not quite as magical as it was when I was 18, this is still a mind-blowing experience. You forget about the death and destruction until you are confronted by one of the plaster cast models of a dead Pompeiian and can make out the fold of his toga and the strap of his sandal, or see her vainly trying to prevent the ash going into her mouth by holding her hands over her face. Almost as poignant are the signs of ongoing life of the tourists. In one small room in one of the villas we noticed a couple of discarded condom packets. Life continues, even amongst this mausoleum to the long dead. I bet it was the same dude I saw getting blown on the railway tracks. That guy is a public sex menace.
I can't believe it's almost ten years since I was last here. My main memory of that last visit was sitting on the seating of the smaller theatre and considering the link to the performers of 2000 years ago. There were so few tourists around that I had the place to myself for about a quarter of an hour. So I went back there to honour the ghosts of the ancient troubadours and the slighty sad and lonely ghost of the 36 year old me. I was with my wife now. Maybe he'd see that and it would put his mind at rest. I was pretty confused and unhappy and directionless back then, but now I feel content with my lot. It has struck me on this holiday that as a young kid all I wanted to do with my life was write stories and tell jokes and somehow I have ended up making that my living and done well enough at it to sit on a balcony eating a peach (when they have them) looking at the Mediterranean. I think ten years ago I was angry with the way things had turned out for me. Now I just want to get back home and write more stories and tell more jokes, just for their own sake. Maybe I should come back to this theatre every ten years and take stock of where I am.
In the ten years since my last visit they have blocked off the seating in this smaller theatre, so I couldn't sit in roughly the same place anyway. If I had thought ahead (and not been alone) I would have set up a camera and taken a picture of myself sitting on those ancient stones and then the next time taken a picture of me in the next seat along, and so on and then turned them into one photo where you could see the progression of my ageing, against the background of something ancient enough to put the petty span of my life into some kind of context. It would have been a great poster for "Oh Knickers, I'm Ninety!", my 2057 Fringe show.
This time I failed to find Caecillius' house, which was vaguely annoying, but we saw plenty of other stuff, including the Villa of the Mysteries. We popped out to a restaurant by the villa for lunch, where we overpaid for some salty pasta. But the man picking our pockets was entertaining enough. The sun was not out and the streets of ancient Pompeii were crowded and hot, so we decided to call it a day. We went to the nearby train station this time and though I was a bit confused as to why the Pompeii station we had got off at was not on the line, I was tired and not thinking straight and had ascertained that the trains on platform 1 were going back away from Naples, so we waited there.
Throughout the holiday I have been confusing Salerno (where we'd come from) with Sorrento, which hasn't been a massive problem. But it was only once we were on the train and nearly at the terminal that I realised that we were heading to the latter rather than the former. The reason Pompeii station had not been on the map was because that was a different line. I had no idea where Sorrento was or how we would get back to Salerno or Maiori, but luckily when we got to the station there was a bus to Amalfi about to leave. We jumped on that. It took us nearly two hours, but we got to travel along the coast that we had seen from the boat yesterday and the time passed quickly. I had done so well with transport in the morning that it was annoying to have made this stupid error. But we had some overpriced ice cream in Amalfi (the Italians are doing a great job of getting rid of all our holiday money for us and I thank them for that), before getting another bus home.
It made an active day even more exhausting, but we watched the latest, blistering episode of Breaking Bad and shared a takeaway calzone and drank diet coke and I don't think I could have been happier. But will I be happier or less happy in 2023? I fear the 56 year old me will hate the 46 year old me for all the poor choices and mistakes that he will inevitably make. But take comfort, old Rich. I was happy today.