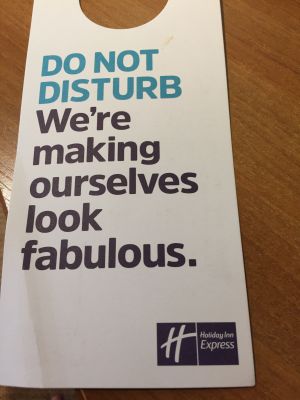 5283/18203

Oh great, a hangover to add into the mix of what was already going to be a very difficult day. I woke up early and was back home to have an early lunch with Phoebe and Catie. We went to Wagamamas and Phoebe was trying to use her kids' chopsticks (they are joined at the top so they become like pincers) but my wilful daughter did not want any help. She put the chopsticks around her food and expected the food to be magically picked up, but it wasn't. She needed to squeeze the chopsticks. "Let me show you," I said. "No!" she said, pulling the chopsticks away from her, "Mine!"
"I don't want the chopsticks, I just want to show you how to use them."
"No", she insisted and tried again, but again the chopsticks did not work if you just held them at the top and put them near the food.
"I can show you."
"No!"
It was frustrating that she didn't want to be helped, because I totally knew what the problem was, but in this childish refusal for help or to admit weakness or ignorance, she did exemplify much of what it takes to be a human being. So many older adults, including the President of the United States have a similar refusal to admit they might not know everything or to accept help.
She tried picking up the food with her hands and placing it between the chopsticks, but that didn't work either. She knew these things could work, but she didn't know how, but she was determined to find out for herself.
And that's the difference between a baby and an adult. I admired my daughter because she wasn't refusing assistance out of ignorance or spite- she just wanted to work this out for herself. As much as she had a bona fide expert on how to eat stuff right there, she wanted to crack this conundrum herself. She was insistent and pushed me away angrily if I tried to show her.
And eventually she did manage to make the chopsticks work, after a fashion and was pleased with herself.
I know such battles of me trying to help her and her refusing my help will get bigger and more raucous and it's typically human to think that you know best and refuse guidance. I hope by the time she is President Trump's age she will have the wisdom to know here limitations and when she needs input from others. Or by the time she's about seven really.
But I loved this little parable of human confidence and weakness. If we could just tell children how to be functioning and happy human beings and they actually listened, I guess that life would be duller somehow. I have a lifetime of my efforts being batted away and unnoticed.
Having said that as I started the long and weary drive to Shrewsbury, that old song "No charge" came on the radio. I recognised it from my own childhood. A boy presents his mother with a list of chores he's done and what he is owed for them and his mother gives him a list of stuff that she has done for him (bearing him, looking after him and all that shit) and points out that there was no charge. In the song the boy gives back his bill with "No Charge" written across it, but it made me want to record a version of the song which was identical right up to the end, but instead of cancelling the debt, the kid says, "Yup that was very nice of you and all that, but as you point out, you asked for no charge for what you did and to be fair I never asked you to do any of it, but I have done a day of work and I'd still like my payment please. Don't blame me for your foolishness in giving your services for free. If you offered No Charge, then don't come looking to wipe out this $14.75 debt now, just cos you don't want to pay me. I mean seriously, this could hang over me my whole life. If you're going to insist on doing this then I'd rather you just worked out a fee and then at least I'd know what I have to pay off. As it stands you can just keep on giving me your "No Charge" list every time I present you with a request for services rendered."
And you have to ask if the boy in the song kept on doing his chores for nothing from then onwards or if the next time he asked for payment, in which case he thinks that less than $15 was sufficient renumeration for all this mother had done.
The drive up to Shrewsbury felt endless. I was so tired and stopped for coffee and chocolate and then again to think about having a 20 minute nap. In the end I trudged onwards. I was glad I'd decided to get a hotel in the town, rather than attempt even part of the drive home.
That slip in the rain in Oxford had had a big knock on effect on the weekend. If it hadn't happened then I could have been sleeping in the back of the hire car. Instead I was driving my new car and seeing if the fuel economy was as bad as my initial test drive had suggested (luckily it wasn't. I did well over 150 miles today on about a quarter of a tank of fuel). Have you seen the film Sliding Doors? Awful isn't it?

I got to the Holiday Inn and had a shower in the hope it would wake me up. It didn't. Dave Gorman has made good comedy mileage out of products and services being matey with you. At the Holiday Inn the Do Not Disturb signs say "Do Not Disturb. We're making ourselves look fabulous". I liked the idea of having to have a Do Not Disturb signs having to say exactly what you were doing and there being a vast array of them to reflect this choice. I think the "Do Not Disturb, I am having a grubby wank to internet pornography" would probably be the most heavily used. But I am sure there could be many more. I considered having a load of the signs made up, making more realistic assessments of what was going on and then placing them on the doors of random Holiday Inn rooms. I might do it, but as it's such a Dave Gorman idea I might just gift the whole thing to him.
It was hard work for me (though hopefully not for the crowd) but worth all the effort. They were a fine final crowd.
I can't believe I have got through over 60 gigs since February. Thanks to everyone who has come along. It hasn't been easy at times, but it's pretty much always been fun for me.
Back to the hotel and a quick wind down in the bar, catching up with my blog, before heading to bed for the sleep that I'd wanted to have as I drove on the M40 (but had thankfully avoided drifting into).
Holiday time! You know, once I've driven home. I think I have earned it after the first five months of this year. And nothing can be as relaxing as vacationing with a two year old, right?