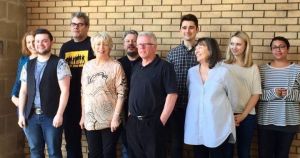 5225/18145

The final day on the industrial estate in Acton and for the first time we worked from 10 til 6, as the fourth script proved more complex than the others, jumping from scene to scene. So there was more sitting around than usual and there was a giddy end-of-term atmosphere. Some of my scenes were set in a car, so Emily and I went outside to sit in an actual vehicle. During my character talking in a heartfelt manner about his father there were suddenly cheers coming from nearby. I thought maybe the ice cream van had arrived and started giving out free "ice cream" (having now decided that there must really be something dodgy going on for these frequent visits to make sense), but the producer went to look. She came back to report that the noise was coming from the rest of our cast who were watching the highly-respected, veteran actress, Alison Steadman hoola-hooping in the car park.
This had not been a scenario that I had ever anticipated happening. But it was such a delightfully unexpected occurrence that I couldn't help but feel privileged to have been an accidental part of it.
Alison was in very good form today and I got told loads of fun actor stories today, still none of them ending with "What a cunt!" (maybe that was the previous generation of thespians favourite type of story) but one ending with Tom Jones admitting to feeling horny. Which to be fair, I think he usually does.
Alison also told a story about being slighted by a notoriously bullying producer at one of her early jobs for turning up in dungarees (as two of the cast had done today). That and another snub on that production meant she held a grudge to this day, over four decades later. I don't know why some people feel the need to be unpleasant in this business, but people have long memories.
No last minute rewrites were called for and it looks like all the episodes are now going to be long enough.The younger actors were sad that their first radio experience was coming to an end, but we all signed their scripts for them as a memento of this first (and as I warned them, possibly last, thus possibly giving them reason to talk unkindly about me in 2057) job.
I think it has been quite a special group of people and it'd be nice to think we could get back together for another series at some point. But let's see how this one goes first.
My wife popped to the loo, just as Dexter from off of Dexter passed me in the bar. This was like when she missed Harry Potter off of Harry Potter at Heathrow Airport!
I was pretty tired and had to fight against the desire to snooze, but that wasn't too difficult as the play was very engaging and the performances all strong. Although darker in tone than what I've been doing all week, there were some similar themes of family and moving on and staying put, hopes and dreams. Everyone was a little bit broken and yet you could identify with and be sympathetic to them all. I loved the slightly post-modern opening as the central character, narrates, aware that he is in a play and the staging of the simple action was impressive too, with a heater-skeltering fire escape stair case disappearing off into the sky.
I didn't know too much about Tennessee Williams, (though have seen some of the films of his work) but this was his breakthrough play and clearly fairly autobiographical. The writing is beautiful and evocative and it was great to see a play that was gripping, made you think and provoked emotional responses. There's little hints of the different social conventions and racial attitudes (though on looking through the script I see those have been slightly altered for the tastes of the modern audience), but in many ways it feels like a modern piece. Tragically it's just nice to spend some money going to the theatre and end up being entertained. So as good as the play and the production are, equally important was the time with my wife, as human beings in our own right and not just parents. I am lucky to have the family I didn't choose and the family that I did. And the pretend family that I helped to cast.
I shall miss them all this week.
I am no Tennessee Williams, but after yesterday's swing-ball efforts I might be a Tennisy Williams.