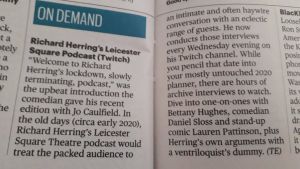 6450/19370
The kids were at their Nanas so I slept in til after 8am. What a joy. I wonder if she'll let them sleep there every night. I like the kids and all, but you know, it would be nice if we could just give them to someone else until they were maybe 25 and get on with our lives.
As I'd been working I didn't get to quite fully enjoy the break, but when I got home last night my wife was drinking with friends and I joined them for an hour and drank Prosecco and a dirty Martini and ate a big supper before heading to bed.
Luckily this didn't affect me too badly and when I got to work I felt pretty switched on and focused.
More fun in the studio today, though broken up by some mildly spooky business. We'd just got going this afternoon when the fire alarm went off. I was singing the theme from Penguin Race at the time and thought the production was playing in the tune. The timing seemed staged. After we'd listened to the alarm for a couple of minutes, wondering if it was real, for long enough to have burned to death if an inferno was coming, everyone milled outside and waited to see if flames would ruin our days filming.
After Covid had done its best to scupper us, it would start to feel personal if the production had to be postponed because it had all burnt up.
We had maybe half an hour delay before it was ascertained that it was a false alarm/pesky ghost who didn't like Penguin Race and went and got back on with the japes.
I'd felt I was on a real roll before getting interrupted and it just wasn't as good the second time.
The evening filming was interrupted by a power failure. The whole studio went dark and then slowly things kicked back to life, but the robotic lights in the ceiling all reset themselves and moved around like laser canons or a Doctor Who monster, whilst still not giving out any light. It felt a bit eerie and was certainly unusual as I assume most studios have back up generators to avoid this and we'd just been talking about the paranormal. It happened twice more in the next hour and so it turned into another very long filming day. I had speculated with my wife that I might be back shortly after 9pm and we might even watch a film. I was living in a dream world.
My energy was flagging a bit by the end and I wasn't quite in the same state of perpetual hysteria today, but I think it was all funny stuff.
I got home and there was no party going on. The kids were home and asleep and my wife was in bed, so I drank a whisky and a beer to bring my adrenaline levels down and went to bed at about midnight. I could maybe hope for six hours sleep, so any benefits from the seven or eight hours of last night will be immediately lost.
My Twitch Channel and vent act were recommended in the Sunday Times today. 3 weeks in and this show has had national newspaper coverage twice (and none of it has been "Man who used to be on telly has mental breakdown).