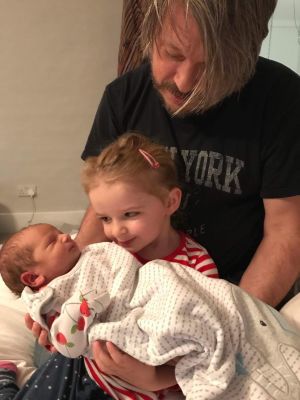 5428/18348
Hard to believe this is only Ernie's second day on the planet. It feels like he has been here forever already. In a good way. But he was born yesterday. And believe me, I took advantage of that by making him sign up to all kinds of scams and cons that will mean he is working his whole life for me.
Or rather my whole life. So he might be OK.
We had to negotiate the tricky first meeting between siblings. How would Phoebe react to this interloper? To be fair I think we've done a fairly good job of preparing her for this and she does love babies and was excited about it all. She saw the sleeping baby through the door as I took her downstairs for her breakfast and said "Baby!" But as it had been a tough night and Catie was finally asleep too, I said she would have to wait.
Ernie, rather cleverly, had decided to ingratiate himself with his big sister by buying her a present (hold on, where did he get the money from? What do you mean I paid for it? Shit, it's him who has been grifting me all along). Phoebe met her brother after breakfast and seemed beguiled and was especially excited to get a present. It was a nifty kids' camera, which takes actual pictures (and you can jazz them up with cartoons and do selfies and all that jazz). Ernie has excellent taste and it turned out that Phoebe was quite a whizz with the camera, taking some great shots (as well as some terrible ones) and getting to grips with the controls very quickly.
The camera uses a little joystick to navigate between options which confused Phoebe initially who kept pressing the screen expecting that to work. And as good as the camera was this felt weirdly archaic. How quickly technology is moving along.
We got the obligatory photos of Phoebe and Ernie together, Phoebe looking down smiling with love (or possibly plotting how she would be rid of this cuckoo in her nest). I don't know why we're encouraging them to be allies. Divide and conquer is the only way. If these two realise the power they will wield if they combine their forces then we are in real trouble.
When Ernie cried Phoebe commented it was just like had been predicted in her book. We'd got her a few little stories to prepare her for this event, but
this Princess Polly one
had clearly resonated and prepared her.
But the boy doesn't cry too much and a tiny baby is a wonderful and calming sight (at least when he's sleeping, like he is next to me at the moment). And Catie is coping admirably with the pain and exhaustion. She underestimates her own strength. Being a mother is so demanding both physically and mentally and it's astounding, given we all have or had mothers, that we live in a society where women aren't revered as gods. Perhaps this is why weak-ass old white men want control over them so badly.
We are slowly remembering all the stuff that needs to be done, the burping and wiping and being covered in spit and vomit and the pain of being ripped from deep sleep every couple of hours and having to immediately deal with a fragile little whelp and keep it alive. Luckily having read the Princess Polly book I was ready for some of it.