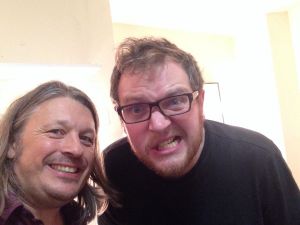 I didn't feel as bad as I expected today. It was a little painful going downstairs, but nothing compared to the day after the Marathon when every step was agony and it took me twenty seconds a step. By the end of a long day and another double podcast recording I was pretty knackered, but I was relieved not to have had another vision into the decreptitude of old age.
My podcast guests were Miranda Hart and Miles Jupp, which is certainly the poshest pairing I've had for this show. After last week's plague of flying insects, someone (and sorry I've lost your name, but I mention it on the podcast) had sent me a tennis racquet shaped fly exterminator, which could be used to zap any insect. It warned that the device should not be used on humans or animals or near electronic equipment, but that wasn't going to stop me. Proper TV shows have health and safety people stopping us having any fun (in Armenia the amazing limbo dancing kids were forbidden from doing their act with swords, which seemed a shame - imagine the ratings if they'd died). I didn't fancy being the one who got electrocuted, but a lady called Ruth in the front row was game to be zapped. After checking she didn't have a pace-maker I gave her a blast of my fly killing sports equipment and it was much more violent than I think either of us imagined. There were sparks (which hopefully I caught on my video camera) and a cracking noise, but luckily Ruth hadn't been replaced by a wisp of smoke. She was (largely) unharmed and hopefully will not sue me for everything I've got (mainly because all I have is a fly killing tennis racquet). It's worth buying the video version for this alone! I was a bit disappointed the the inventors of this device had come up with the name the Executioner, as that had nothing to do with tennis. But two of the sharpest comedy brains in the country (me and Miranda if you were wondering) couldn't come up with much better in the five seconds that we thought about it. A couple of the audience later suggested "The Venus Williams Fly Trap" which would be great if you could get the tennis star on board (though I suspect she'd charge too much for the use of her name - not sure how big business tennis racquet shaped fly killers are). Though @philmscribe's suggestion of the tennis whackit, isn't bad.
Unfortunately this week there weren't dozens of big flies around. There was a single midge who taunted me by flying around at random intervals, but I could never get the racquet out in time and I suspected that in any case it would be quite hard to hit as it would slip between the bars of the racquet (unless an electrical force-field is created). Anyway got a lot of value out of the £9.99 item, so thanks for sending it in, whoever you were! (Editor's note: It was Adrian Reynolds - cheers dude!)

I wasn't on top form on these podcasts, but luckily both my guests were funny. It doesn't matter too much as I realise that my job is to say inappropriate and offensive things, which I manage to do equally well when I am trying or not trying. A few of my racier "jokes" fell flat with the slightly reserved audience, but the ethos of this podcast is that we don't edit anything out (unless a guest requests it) so you can see my failures in all their stomach clenching glory. And only I will know which ones I did on purpose to get that reaction and which were genuine Madeleys.
With Miranda I found myself laughing inappropriately as we discussed her father nearly being killed in the sinking of HMS Coventry during the Falklands War. Luckily Miranda took this well and I explained my problem of having a naturally laughy demeanour (which recently saw me chastised by our Armenian translator for seeming to chuckle at her country's genocide). It's a medical condition, but also Miranda is so funny that she can make you laugh even when she's talking about horrific injury.
The bumbling ineptitude is part of the character of Richard Herring, though it becomes confusing when it's entirely genuine. But when Miles Jupp was asking me about my relationship with Stewart Lee for example, it's hard for me to work out whether I should stay in character and be completely bitter or reassure people that any animosity is (mainly) a joke. But I found that trying to be genuine about it just sounded sarcastic and added to the issue in any case. And on top of that the real Richard Herring is secretly resentful of his erstwhile double act partner, so that adds to the confusion. That's a joke. Or is it? See the problem.
The audience certainly didn't seem to share my knowledge of or obsession with Balamory, but Miles patiently (and slightly impatiently) put up with stupid questions about it and my admission that ten years ago I had watched it in a fug of alcoholic despair, when I had been unable to sleep. But I did get to the bottom of what the story in Balamory actually was. It's pretty mind-blowing.
You'll have to wait a while to see or hear these as we're releasing one a week (so the fun lasts longer and so Chris Evans - not that one- and his team have time to put them together). The Shappi Khorsandi audio podcast has been slightly delayed (by producer Ben being busy with his proper job) but should be up on Tuesday, but you can get the video right now at gofasterstripe. As always your support is both appreciated and vital. If you can afford to download just one of the series that would be an enormous help and mean we can carry on doing these. But the series pass is pretty astonishing value at £15 for at least 7 podcasts (plus the bonus of the Stephen Fry podcast warm up)

The London run of We're All Going To Die! starts on Tuesday night at 7.15pm at the Leicester Square Theatre. You should be able to buy tickets on the door for the first three nights, but book ahead if you're coming at the weekend. The gigs in Brighton and Manchester next week are sold out already, though there are still tickets for Leamington Spa. Sheffield on the 23rd October is also a handful of tickets away from a sell-out. All details are on the WAGTD page.