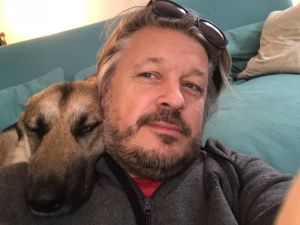 5820/18840
Just done the sum. I have now blogged for over three tenths of my life. How much longer can this go on? Both my life and my blog. We're days away from its sixteenth birthday. I suspect my blog has been having sex without me knowing, but in about 20 days it can do it legally. That's a hard thing for me to have to cope with.
The exciting news for me today was that I have managed to complete first drafts of all four episodes of Relativity, at last. Which is good news as we start recording them in 10 days. I've done second drafts of three of them and will hopefully be finishing them all off on Tuesday - and then whatever happens they'll be done by the end of next week as I can't do anything after we've recorded them.
It's a huge relief to get towards the end of this project that has been hanging over me (partly in a nice way, but not always) for most of the year. As always for all the pain of failing to write, once I've actually got down to it, the writing has been very satisfying, lots of fun and stupidly easy. Only stupidly in given how long I have tried to avoid it.
The pain of constant rejection has maybe made writing seem like a chore or a millstone, but it's something I love and something I am good at (I think, in spite of the decisions of seemingly endless TV executives). I do have another sitcom episode to write, for the series I did the writers' room for, but the team behind that are very organised and it works to a schedule (which appeals to my work ethic) and in stages of planning (last week I wrote the story document for my ep and we'll knock that round a bit, before doing another story document and then a first draft and then a final draft: and there will be input all the way along and it will actually get made, so that's all exciting).
But anyway, I had the morning to finish episode 4, but there was less to do than I expected and it only took my an hour. In the afternoon we tag-teamed parenting and Catie went for a swim whilst I attempted to entertain the children. I took them and the dog up to the rec, in a precarious caravan of pram, walker and dog on a lead. But it was worth it because I got to push both my kids on the swings, side by side and they both loved the experience. And so did I. I sometimes forgot that one of them was tiny as I got into the rhythm of pushing, but neither of them did a 360 and the ageing village swings did not fall apart. It had been a lot of effort getting them all up the hill again and it was a bit of scary rollercoaster trying to get them all down again. But we did it. And nobody got hurt. Not this time.
It felt pretty good just sitting down watching Noddy:Toyland Detective with the kids and the dog snuggling up to me on the sofa. The rest of my family are ambivalent to me at best, even though I love them more than anything in the Universe, but the dog loves me and is loyal to me. And I appreciate that because I also have the unthinking loyalty of a dog, and Wolfie is the only being throughout my life who has given me that same loyalty back (I mean maybe my wife too, but she's occasionally annoyed with me - I can't think why- whereas Wolfie holds nothing against me even for a second, even when I caught her foot in the gate).
The dog sat with her head on my shoulder for the longest time this afternoon. It was hilarious and lovely. I looked at the three idiots I was in charge with (and would also have looked at Smithers too, were he not off causing chaos elsewhere) and considered how strange it was that they were all in my life now, how unlikely it was that we were all together and how empty my life had been before. Though I suspect the man who started writing this biog might have found it empty that my afternoon involved an expedition to some swings and watching Noddy solve some lame-ass crimes in Toyland.
But that man had never known the sweet love of a dog.