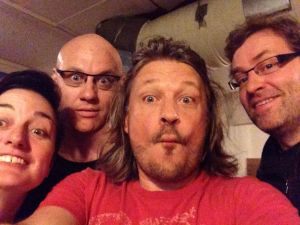 Last night I drank more than I have on any night of this year's Fringe (only two pints and a large whisky, but that shows how lightweight I have become) and I was expecting to feel lousy again when I woke up (I have been very weary for the last few days). But even though I was up by 9 I felt energised and full of oomph. I guess the first half of this week was pretty hectic, with extra shows and early starts, but yesterday had been a bit more restful and I had had time to recuperate.
After a couple of podcasts where I don't think I've been on top form I was delighted to find my brain working sharply as well. As I spoke to Terry Alderton a man loudly said the word "Heineken", which I thought was a weird heckle initially, though I suspect he was asking his mate to get him a drink, but I quickly came up with the suggestion that he might have some kind of corporate Tourettes (was he sponsored?) which I was pleased with. And I felt back in control of my mouth and my brain and enjoyed the chat with Terry, who embarrassingly remembers me sitting stony-faced during his 1999 Perrier nominated show. I, of course, did not know that he could see me, but I hadn't been blown away by the rather mainstream act he was doing then. But his journey as a comedian since then has been remarkable and fascinating, going from prime time TV with Lulu, to post 9/11 depression to reinventing himself as a post-modern comedian who deconstructs his act on stage, tackles weird and wonderful subjects, but is not afraid of being entertaining or getting laughs. I described him, quite accurately I think as like a Stewart Lee who likes comedy. Seeing comics like Terry and Paul Foot in front of a "regular" audience of comedy punters, one might assume that they would go down badly, but Paul wowed the middle-aged ladies on the Fred MacAuley Show the other morning and Terry can do his avant-garde stuff in front of a crowd that are not always well-versed in the intricasies of comedy and yet he still makes them laugh. I like this kind of comedy being populist rather than an exclusive in-joke for a select group (as let's face it, my comedy is). But it's interesting to me that Terry is not lauded in the way that some of the University educated comics doing the same sort of thing are.
Ardal O' Hanlon, my other guest, is very different in personality to Terry, but was interesting, charming and funny. The standard of the podcasts has been higher than usual this year I think (mainly because I have managed to largely keep mind and body fit), but this was one of my favourites. The audiophiles have been a bit quieter lately so I am assuming the sound is better too. Have a listen here.
By the time I get home after the podcast and have loaded it up and sent off the description and photo to Orange Mark (who is doing sterling work in getting these up as quickly as possible - doff your caps to this fabulous unscurvied gentleman) and had a late lunch or an early dinner, I am always surprised to find how little time I have left before heading off to the Pleasance. I usually have a bit of downtime watching Pointless and maybe the Simpsons, but only have enough time to catch Dan Tetsell in the titles of Hollyoaks before walking up to the Pleasance. I am finding it hard to get the time to write the blog. I can't think of a time when it was as difficult as this to get this done, though it's a mixture of constant overwork and my days being the same (making it difficult to find inspiration). And I am not managing to get the audio versions down at all. Sorry for that audiophiles, but of course you might never know of my apology due to your refusal to ingest information through any orifice other than your ears

I saw a graffiti artist adding some pink dots to his blue tag today, and the smell of the spray from his aerosol drifted into my nostrils. I would have taken a photo, but thought he might not appreciate it.
It was a tough Friday night audience tonight. The venue was about two thirds full, which is OK, but I am slightly disappointed not to be selling out at the weekend (hopefully tomorrow will be better) and I guess there were quite a few newbies there as they seemed quite shocked by the 9/11 stuff and for the first time my Peter Kay bit didn't really get any reaction. There had been some drunken sounding guys talking near the start, but I asked them to be quiet saying it cost thousands of pouds to put on a Fringe show, so I wasn't going to let them try and get away with trying to stage theirs for the cost of a ticket to mine. The rest of the audience seemed to like the put down, but it took me a long time to get them warmed up (in comedy terms - I think they were sweltering with the heat in the room which doesn't help). After a good run of successful shows with great audience reactions it was slightly disconcerting to have a tougher one, but I pushed onwards and I think most of them came round to me in the end.
I escaped Friday night Edinburgh by going out for dinner with my wife and then going home to watch the last two and a half episodes of Season One of "The Newsroom". Some of these are great, but overall the comedy feels forced and unnatural and the political sentiments, whilst admirable, just a bit sledgehammer and preachy. I like it enough to give the second series a chance, but overall it's just a bit too pleased with itself. When Sorkin gets it right he is amazing and when he gets it wrong he's still pretty amazing. But maybe this is a little formulaic. At least (spoiler alert) he didn't end the series on a cliff-hanger assassination attempt like he did with the West Wing. But the goofy, screwball romances and failed romances get on my nerves. How about a TV series where the people who are obviously meant to be together just get together straight away and stop bothering us with their cutesy will they/won't they antics. Or at least make the alternatives realistic propostions so that there is some element of difficulty about their choices.
But still enough interesting and engaging stuff to make the series worth watching. Just not quite up to the high standards that Sorkin has achieved before.