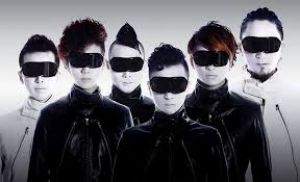 On our way out to the theatre, my wife and I were coming up the escalator at Leicester Square tube at 6.30pm. My wife was on the step ahead of me and I became aware that she was being pushed and jostled by the man ahead of her. He seemed to be either larking around or falling off his own step for some reason and I had to hold on to Catie quite hard to prevent her (or both of us) taking a tumble.
She protested and we managed to remain steady and the man who caused the rumpus gave our a cheery and unconcerned apology. He was clearly pretty drunk (and suspect he'd just lost his footing), but he was also aloof and well-spoken which is never the greatest of combinations. Anyone can have an accident, especially when drunk, but his poshness and his lack of concern for what he'd just done annoyed me. I chastised him for his behaviour and he looked confused and befuddled as if he'd done nothing, "I apologised!" he moaned unapologetically.
I pointed out that that was all very well, but he could have killed my wife. "Oh, I don't think it would have killed her," he said. But falling backwards on to someone on a metal escalator and sending them tumbling down the stairs would certainly have hurt her and could have killed her. This was the time for him to be eating humble pie, not getting into semantics in any case. As if the fact that she would have survived the fall would have made everything all right. "She'd only have broken her back! Come on. Don't overreact mate!" He was drunk and thus possibly not acting in the most sociable way (though I suspect this guy is a prick when he's sober too), but he had changed me from concerned to quite pissed off in a matter of seconds and I rather felt like hitting him in his smug, drunk, self-satisfied face. My wife, sensibly tried to defuse things (and decrease the risk of being blundered into again) by suggesting we walked up the rest of the escalator to escape him. "It's ridiculous, it wouldn't have killed her," he repeated to his lady friend. I turned and said, "Well if you like we can test it out. I'll push you down and let's see if you survive."
I am used to bantering with drunks, but this man was so pissed that we were practically at the top of the escalator when he came back with his response, which was just a strange sound. He was unable to form words. "Good comeback," I said, before disappearing into the night. Well, trying to. My wife's oyster card wasn't working and I feared we might literally bump into our hapless nemesis again. But luckily we escaped just in time.
It did not leave us in the best of moods for the theatre, but luckily the show soon made us forget about it. On the recommendation of a friend we had come to see Siro-A without knowing an awful lot about them, beyond the slightly off-putting fact that they were referred to as Japan's Blue Man Group. Even having seen them it's hard to explain exactly what they are, but it's a mixture of music, dance, movement and technology, with some enjoyably alien comedy thrown in. If it reminded me of anything it was like being trapped in the movie Tron! But it was captivating and original and the technically mind-blowing, both in terms of the technology and the complexity of what the performers had to do. There was some audience interraction with the smallish and polite and slightly-reseved English audience, but it was quite life-affirming and silly stuff. This video gives you a little bit of an idea what it's all about, but it's not as cool as seeing it live. And luckily the only technical break-down came during the interval where all the lights went out and everything had to be rebooted. They were charming and talented performers, my favourite bit was when they gave the pin number, phone number and home address (pinpointing the exact house on google earth) of one of the performers. I suspect they were all the real ones.
It was nice to be back at the Leicester Square Theatre, where I am going to be quite a lot over the next few weeks. I have some great potential guests lined up, but finding it hard to get them to 100% commit, (as they are all such famous superstars), but finally I have one of the two guests for the first one on the 30th September sorted out. It's the very funny and painfully honest Shappi Khorsandi, so that should be a cracker. There will be another guest that night too, TBC. You can buy tickets to see the podcast at the Leicester Square Theatre website and/or purchase your series 4 video pass from gofasterstripe.com. You will get at least 6 podcasts for your £15, plus a video of the warm up I did at the Stephen Fry podcast. Individual episodes will be £3.50 and if you could stretch to buying just one of those it would really help us to keep this project going. But as always the podcasts will be available as free audio for those of you who won't/can't pay. Spreading the word to friends you think might enjoy this stuff is a fabulous alternate form of payment.