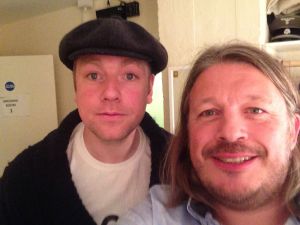 I came into my kitchen to see both my cats staring intently out of the back door and making odd mewing noises and then looked into the garden to see a squirrel sitting on our fence. He was quite a big bushy-tailed rat (as I call squirrels) and though my cats looked up for a fight I am not sure they could have taken him. I don't know if he was afraid or itching for some aggro, but he stayed where he was, jittering back and forth a bit and making a very odd noise. I have never heard a squirrel "speak" before and it's not a noise that you're taught as a kid. There are no squirrels on Old Macdonald's Farm, just as there are now no badgers. It was quite a disturbing sound, coming from its squirrel diaphragm. Again this might be the noise that a squirrel emits when it is frightened, or itching to get its claws into a cat - either way it was disturbing.
More disturbing was the fact that even after I had arrived and tapped on the window the squirrel did not want to move. It stayed where it was, performing this odd jitterbug dance and singing this pained song. I then wondered if it was actually in the throes of death. He seemed bold and afraid at the same time. He lay down at one point, still emitting his terrifying rat solo. I was scared of him. But eventually he slowly moved away and the cats, unused to visitors or interacting with other animals relaxed a bit. I wonder what would have happened if I opened the door. Part of the responsibility of caring for another life is not to do dangerous experiments to see what creatures they can beat in a fight. Maybe I am ready to have a child now. Although I think I might have sent a baby out there to fight the squirrel. It's the only way to toughen them up and deal with the real world, where terrifying squirrels are lurking round every corner to bite out our eyes.

Having only done two live performances since the end of the Fringe I was feeling a little bit rusty as I was waited backstage at the Leicester Square Theatre for the return of RHLSTP. I wasn't even sure I remembered how to do it.
It was a smallish crowd of Die Hard fans (who were all very upset when they discovered it was just going to be me talking to Shappi Khorsandi and Rufus Hound, rather than Bruce Willis running around in a vest), but there was a good atmosphere. For some reason there were loads of flies buzzing around the stage, which is odd because the theatre is underground and one wonders how they'd all got down there. Was there some rotting meat or a dead body back stage, or were they just critics commenting that the format was beyond its sell-by date. It was fairly irritating as they kept dive-bombing into my face as I tried to talk (or listen). You don't get this on Parky. But their aerobatics and courtship (I am pretty sure at least two of them were trying to get off with each other) will provide a welcome distraction on the video version if you are bored by the conversation. In fact if you're into watching flies fucking you might like it more than the usual shows. It would be disappointing if I became a financial success after discovering how manyt perverts have been waiting for fly porn. A gnat's chuff is literally as tight as a gnat's chuff.
The interviews were fun and illuminating. Rufus in particular opened up to talk candidly about his experiences on Celebrity Juice. I gave him the time and the space to chat freely and surprisingly it was quite a moving story. The audience were rapt, but there were plenty of big laughs too. And loads of flies, flying in our faces.
There's also a new spin on the ham hand/suncream armpit question.

We are waiting until next Monday to release the first podcast with Shappi and then will release a podcast a week subsequently, so Rufus' one will be out on the 14th. It's worth buying the video just to see an impressive and set destroying stunt at the end (and obviously for the insect porn). It's good to be back. If you can support the project financially by either buying a ticket to the show or paying for one or more videos then that would be lovely. But just telling a friend about the show would be a big help. This is your show. Though obviously we get all the money for doing it.
And having slipped in two twenty year old Fist of Fun jokes into this entry I think it's time to move on.