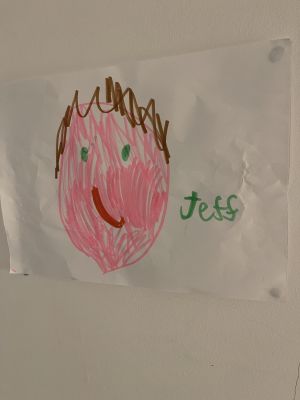 6983/19503
My daughter has drawn a picture of a face and insisted that the face is called Jeff. It's a name she chose. I am not sure where she got that from. To begin with she stuck Jeff on the wall and played a slightly ineffectual game of catch with him, where she'd throw the ball towards Jeff and Jeff (or the wall depending on how you looked at it) would knock it back to her. Ernie did something to upset Jeff (I can't remember what) and Phoebe insisted that Ernie apologise to Jeff. Which Ernie did. He's a very polite young man.
When Catie said Ernie didn't have to apologise to a picture, Phoebe got quite upset. Jeff was real and had to be treated as such.
We then had a family disco where everyone got to choose a song and Jeff got to choose one too. Like Phoebe he likes Katy Perry. Phoebe then took Jeff off the wall and started dancing with him and then announced that Jeff was her husband. It was all happening so fast.
I wasn't sure I approved of my daughter marrying Jeff. I knew so little about him and to be honest he has a bit of a smirk on his face which makes me think he's not all he seems. But you can't stand in the way of love and I guess I just have to accept that my daughter is married to a piece of paper and I hope it works out for these two kids (I presume Jeff is a kid. If I find out he's 25 then I don't care about prison - I will rip that pervert to shreds) As long as Jeff is six or seven then I suppose it's all right for them to get married. But how many seven year olds are called Jeff?
What really galls me is that he didn't even ask for my permission - I know that may be a bit outdated for some of you, but I think it's important - they just went ahead and did it.
I mean I didn't ask for my father-in-law's permission when I got engaged, but then again I am not a piece of paper. As far as I know.

We've only been in Covid lockdown for six days and already Phoebe has gone a bit Tom Hanks in Cast Away, but I blame myself for this. All my friends are made out of papier mache or rubber or resin and I give them personalities and relationships. She's just exhibiting learned behaviour. They fuck you up your mum and dad and their ventriloquist dummies.
Hopefully it's just a phase, but what if she becomes an adult and still insists she's married to Jeff. He doesn't even have a nose. Or a body. What kind of life can he give my daughter?
I am being old-fashioned, I suppose. In my day you didn't just marry a piece of paper with a drawing on it, but all that matters is that my daughter is happy. And Jeff makes her happy. I just wish I could trust him. You sometimes have to go with your gut and I just don't know if someone should marry the first face they draw on a piece of paper. There are so many other pictures out there. Don't tie yourself down.
Another 3000 words of the book done. I still won't finish it by the end of the month at that rate, but am very happy to have made a good leap forward in the last couple of days. And I am over the bit that isn't covered in the blog now, so it might get faster.