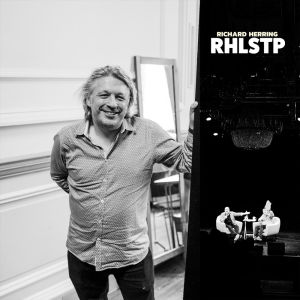 7195/19715
I sleep from about 10pm to 5.30am during this Fringe. Thinking I might be able to save on accommodation next time if I can find someone who doesn't go to bed til 6am #bedshare
Final show and suddenly it feels like the last two weeks have passed in a blur. Like the Fringe had been buffering all this time and seemed endless, but then suddenly spiralled through its entire length in just seconds. Omid Djalili was another loquacious guest full of stories, so I didn't have too much to do. Though I talked a little about my discomfort about the Pleasance having cancelled a show, whilst claiming it believed in freedom of speech and misrepresenting the content of a show. If we're going to start cancelling shows that offend people, can't we start with the Fawlty Towers Dining Experience. To see those people coming back every year and making a living off of someone else's work is something that maybe should be seen as against the ethos of the Fringe. But in reality, of course, nothing should be cancelled. Comedians get cancelled when people stop laughing at them and stop buying tickets. It's a job that is constantly assessed. It's not a perfect system but it's a better gauge than you'd get in most jobs.
My attention was drawn to a couple of times I have written about Jerry. Warning, they both contain offensive words.
I don't actually remember this night
- as with most of my life, it's handy to have my blog to remind me of what I've done in the last 20 years, but this is a pretty good summation of Jerry Sadowitz's act and why people who have heard a couple of lines out of context aren't really in a position to critique it.
I also talked about him in depth in this interview
. His act is a lot cleverer and deeper than he is being given credit for. His life is full of self-torture and unhappiness so I suppose this is just another bump in the road, but I'd love him to be happy and be recognised for what he is. Though of course that would ruin everything.
After my show I rushed up the hill to the castle, where my family and the Drunk Women Solving Crime would be waiting for me so we could tour the old building. A Big Issue salesman recognised me as I dashed past and wanted me to do something for him. I told him I was in a hurry and couldn't stop, but in the end I was ten minutes early at the castle and so could have given him my time. I felt bad about it. I had forsaken the guy, which seemed especially bad in Edinburgh,
due to my unbalanced friendship with Murray from the Pleasance.
Off I dashed. I should have made time for this guy. Sorry.
It's crazy that I've been in this city for so many months and never come to see the Castle or the Crown Jewels or the Stone of Scoooooooon. There's some good old stuff in there.
Although, as with anything high, I spent most of the time worrying my son would climb over a wall or through a canon hole and leap to his death, but aside from him showing off for our friends and trying to do rude jokes for the first twenty minutes (where does he get this?) he was quite well behaved. I loved castles at his age (and still do) and like me he loved going into dark old cave like rooms where young princes had been attacked and killed and soldiers had endured sieges. The castle looks more modern from the outside, as dark and imposing as it is when it looms over you. Inside though there are some amazing old buildings and I was glad that I finally got to see it.
Then back to the flat to pack. We passed a Silent Disco (may first sighting of the year). Catie explained to Phoebe what was going on and she blankly said, "That's a bit embarrassing," which is the most succinct review you could give it. Don't cancel anything, but if you're going to cancel stuff there are some better options to start with, for sure.
As I took a couple of suitcases to the car there was finally rain and thunder. The Edinburgh sky cried as the King took his leave. Will I be back? I mean, almost certainly, if I live long enough, though there's a big part of me that feels like it might be time to pass my crown on. I don't like the way some things are going here, but mainly I wonder if I have the required energy for it. For now though, let's just be happy I made it through this one and look forward to our holiday.