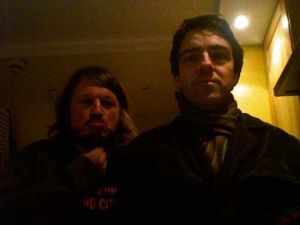 The 99th (kind of) Collings and Herrin podcast was an unusually discursive and serious affair. Instead of making jokes about bumming and eating sperm we seemed to concentrate mainly on debating the merits or not of the iPad, nutrition, the efficacy of inoculation, whether butter will kill you or if in fat saturated fats are harmless (like only a fucking idiot would think) and if living in a time before technology would in fact have been a pastoral idyll of happiness or a constant struggle to stay alive. I liked it for being a bit different and it's enjoyable when we occasionally divert from the silliness, crudity and pretending I'm stupid to discuss things in a more serious and passionate way and revealing that in reality I am very intelligent and it is Collings who is stupid (I am joking).
It's our podcast and we can do what we like and it's enjoyable not having to stick to any formula, even if we have a fair smattering of running jokes (some of which stay dormant for some time - I don't know when was the last time we mentioned Collings wanting to be kissed by a duck before today).
I imagine we will be back to aiming for more laughs when we record podcast 100 (and also coincidentally the 2nd anniversary of our very first podcast) on 1st February at the Leicester Sq Theatre.
Still a handful of standing places left
. Though I have a feeling that the diversity of our opinions on so many subjects and our floundering around as we debate them might well be as funny as the actual jokes.
And I am right about everything.
We also discussed the amazing fact that according to tweeter @mrmansam21 I am mentioned in an AQA english language A-level book today, listed between Richard Pryor and Bill Hicks. It's a module about language and one of the suggestions is the language of comedy. I hate to think of all those innocent teenagers having to quote the awful things I say in the podcast, but if it's educating them about language and I am as important as Shelley or Marx or Hitler then I am happy. I always knew they would study me for A level eventually.
It will be up some time on Friday and you'll be able to get it both at iTunes or
courtesy of Orange Mark
.
I spent lunchtime attempting to spread propaganda about the tour (which starts tomorrow - no way!) If you're not on my mailing list (and if not why not put your email address into the box on the left there)
then you can read my latest newsletter here
. I also got busy on the social networking sites. Facebook is a bit of a mystery to me these days and seems overcomplicated, but that might just be my age. But I somehow managed to create an event for my tour
here
. Please spread the news to any of your facebook loving friends. I even did a bulletin on myspace, but I think it might be more effective to throw a flyer wrapped round a rock down a well.
This is the last day for some time where I will not have a toothbrush moustache. My heart is a little heavy about having to go through all this again and I am somewhat trepidatious about how the citizens of Britain will respond to me (I have mainly only been in London and Edinburgh with it so far), but I must suffer for my art. I am now on the A level syllabus after all.