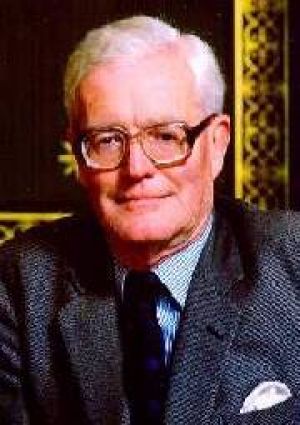 I was heading into central London at the reasonably early hour of 9.30am this morning. At Shepherd's Bush tube I noticed that one of my fellow passengers waiting on the platform was former Tory Minister, Douglas Hurd. This was something of a surreal spectacle. One does not expect to see people like him a) travelling on the underground or b) in Shepherd's Bush. I couldn't help but stare.
Disarmingly he looked almost exactly like his Spitting Image puppet. Not that his hair is like a Mr Whippy ice cream, but somehow despite this, they completely captured the heart and soul of the man. It was hard not to smile at the sight of him.
When the train arrived, I headed up the platform a bit so I'd be in a different carriage than him, because I suspected he was sick of people looking at him and sort of laughing, but he also walked up the platform as the train arrived and ended up sitting almost directly opposite me. He was accompanied by a young man who might have been his son (or grandson), but who I preferred to assume was his young lover, even though they managed to keep up an effective charade that they were actually related.
More disarmingly Hurd talked in exactly the dalek-y strangulated voice that Spitting Image had made so familiar. I wondered how much effect this association had had on his career and his life. Even David Steele who claims his career was ruined by the show has other associations outside of the lampooning TV show, but Hurd must go everywhere knowing that people are looking at him and thinking "Spitting Image".
But weirdly I felt quite affectionate towards him, despite his evil Tory policies and views, solely because I had affection for his puppet.