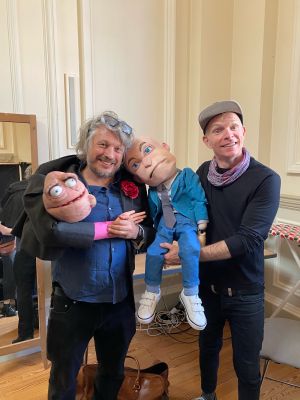 7186/19706
Right Bollock made his Edinburgh debut today, though slightly out of character he got a bit tongue tied and shy in front of the (small) crowd. I was interviewing South African ventriloquist Conrad Koch and his puppet Chester Missing and it was one of those cool RHLSTPs where we got on to some serious topics as well as having some knockabout fun. I am also now a quarter of the way through my Fringe run, which is wild, but one of the benefits of doing a short run.
I am trying to walk everywhere as much as possible, which is good for keeping a bit of fitness, but both tiring and aggravating as most of the pavements of Edinburgh are super busy and there's some building work going on that's making some of the busier roads even more congested than normal. I think I have made the right call in not taking any late night shows (so far) though as I was knackered tonight and glad that I was back in the flat and looking after my (eventually) sleeping kids. It's in sharp contrast to the Friday nights during the Edinburghs of old where I might be back in my accommodation alone, but would be feeling despondent and sad. Tonight I was delighted to be in my own oasis of calm and only be experiencing the madness of the Fringe as a distant noise. And glad of the me time (Catie was out doing her show).
I had been to see Vir Das' show, as he's my guest on RHLSTP on Saturday. It was the first (almost) sold out show that I'd seen (though you would hope to be shifting tickets on Friday evening) and the audience was almost entirely Asian. It was striking and not unwelcome to see this different than usual demographic at the Fringe. You don't have to be Asian to enjoy this show, but I loved watching the delighted faces of some middle-aged ladies opposite me who not only revelled in the naughtier jokes but were clearly in their element with having a show that they could identify with strongly. Vir is an utterly charming and skilled comedian and this was a well-crafted show. I don't know if he is too famous to be up for the comedy awards (I am apparently, which you'd think would make 90% of comedians ineligible, but the comedy prizes have weird rules) but this show has to be in with a good shot, as it has a strong story at its heart, but is packed with laughs.
It was in the same venue where I'd seen
a brilliant show by Brett Goldstein four years ago
. That show had not been full by any means, which now seems inconceivable. It just goes to show what can happen in a short period of time. Back then Brett was doing modestly well and writing great shows and now he's Hercules.
Stuff like that won't happen to many people at the Fringe of course and it's good to have a few acts who keep coming up and whose fortunes undulate gently and who never really succeed or fail. You're welcome.
Weirdly though that Edinburgh was one of my most important ones (in some ways) even though I didn't actually perform. I only went up to do an unpaid spot at the TV festival to talk about podcasting. I was in two minds about doing it as it was a big commitment for a short panel, but obviously decided it would be fun to visit the town for a night. On that panel I was impressed by the the panellist from Acast and it was from this meeting that I got into discussions about putting out our podcasts via them. Maybe I would have made the leap at some point anyway, but in a city where I have taken on so many projects that have lost money, what has turned out to be one of my better business decisions was made in a year that I didn't even have a show. Edinburgh is always unpredictable. It's nearly always better to do something than to do nothing.

I'd had the pleasure of being on Elis James and John Robins show this afternoon. Last week as we drove to Yorkshire I had listened to them and now I was on the show. So yeah, that's about as good as getting to be Roy Kent and Hercules. These lads have an easy charm and are very funny and I enjoyed having to come up with a petty complaint about poorly stored ice lollies for one of their features. I went out and bought three packs of Soleros on the way home. Hope they turn out to be in prime condition.
Both John and Elis will be guests on RHLSTP in the next few weeks.