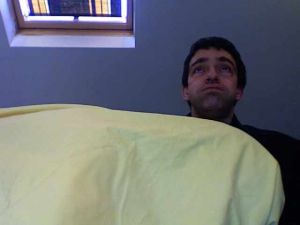 She lived her life, as we know, like some Marmite in the wind - you loved her or hated her or were ambivalent to her and the wind just blew around her, as it would with Marmite, basically not affecting her in any way and she just did whatever she wanted.
But her legacy lives on and in remembrance of her people are choosing to emulate one of the most amazing things she did, give a blow job under a blanket. This will be her legacy and it would be comforting for her to know, as she passed on to join the angels in Heaven, that thanks to her, probably ten to a dozen people who would never have been given a blow job under a blanket will now be given a blow job under a blanket. Her death is not in vain.
We dedicate most of
Podcast 58
to the story of the Claire Urby who
allegedly performed "a sex act" on Daniel Melia under a blanket on a plane
. This, if true, would be amazing enough and demonstrate some chutzpah on behalf of both of them (what it the air hostesses and air host men saw what they were up to?), but more incredibly still, Daniel's girlfriend (a very attractive model as it happens) was asleep in the seat next to him.
It is something to manage to seduce a (I'm presuming) complete stranger on a plane, to the point that they will perform a sex act on you, it's something else to not even be bothered to get out of your seat and hide in the toilets to do this shameful and wonderful thing, but it takes Daniel to the realm of the gods to have this done whilst his girlfriend drunkenly snoozes beside him. Some might call such behaviour base, disgraceful and disrespectful, but not me. I am in awe of this terrible and wonderful (possibly fantastical) scenario.
And if his girlfriend has been inconsiderate enough to his needs to fall into snooze for maybe several minutes, then who can begrudge Daniel for looking elsewhere for sexual satisfaction. He is a man with a man's needs and his sleeping girlfriend selfishly couldn't satisfy them, so he is will within his rights to find succour (if that's what she was doing under there) with anyone he so chooses. Men cannot be held responsible for the base desires that God Almighty inflicted upon them and if you want to keep your boyfriends girls, then you must be prepared to either constantly fellate them or stay awake at all times in order to stop other women doing so.
I really, really hope it is all true. It would be a fitting testament to the life of Jade Goody. Let's forget the time she bullied that Asian girl, let's not celebrate her life by being furiously racist towards people and questioning whether their shit smells. No, if you loved Jade and want her short life to mean anything then please give drunken blow jobs under blankets to people you barely know, or if that seems like too big a commitment, at least consider receiving one.
And Michael Parkinson has the audacity to say that Jade represented all that was bad about modern society. Well that's one in the eye for you Michael. But only if you're the one under the blanket and move your head at the wrong time.
I celebrated Jade and Clare and gave Collings a bit of what he's been after all these weeks. He is pretending not to like it, but believe me he loved it. Either that or I accidentally squashed this month's supply of oat milk in his pocket.
Thanks incidentally for your many supportive emails. I was not unduly upset by Brenda's missive and know that many of you out there appreciate my pathetic attempts at comedy. Nice too to hear from one of the parents of one of the students from Ingfield who let me know that my support for SCOPE is appreciated.
Brenda has not responded to my email. I doubt that she will.