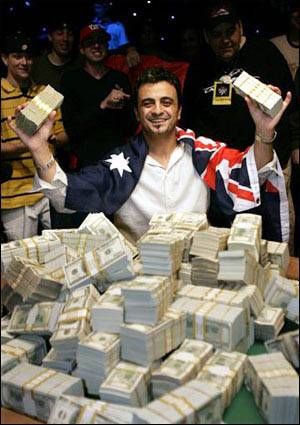 Tonight was another pokerstars media tournament (
You may remember I met Isabelle Mercier at a previous one, or you may have forgotten because poker is boring
). There was a buzz of excitement in the room because the prize was a seat at the World Series of Poker in Las Vegas in August (about 8000 poker players will be competing for an ultimate prize of several millions dollars - it costs $10,000 to enter). And as there were only 24 players (mainly journalists) there was a reasonable chance of winning this covetted prize. If that wasn't enough the last three WSOP champions, Greg Raymer, Chris Moneymaker and the currect champ Joe Hachem would also be playing. Though they already have places at the final, so in reality the field was only 21 people. I could be going to the World Series.
Except that, of course, I am doing Edinburgh in August.If I won would I give up my show (or part of it) for an 8000 to 1 shot at ten million dollars? Well, no, I wouldn't. I like comedy more than poker. Thus I found myself strangely calm for such an intimidating environment. I was still going to try and win and yet in my heart I didn't want to as it would still give me an unpleasant choice to make.
It turned out that I was sitting right next to Joe Hachem. In the pre-game banter he discussed the possibility of one of us joining him in Vegas. I told him I didn't care about that. All I wanted to do was to knock him, the current world champion remember, out of the tournament. He laughed as if to say "That would never happen fat boy". He said he was still going all out to win the game.
We'd played a few hands and I had picked up a small number of extra chips when I was dealt the Jack and 8 of clubs. This isn't a great hand, but I was on the button and no-one had raised before me, so I called. Joe Hachem also called and the guy on the big blind checked. The flop came down something like 3,4,8, none of them clubs. I had top pair, but it was still not that strong a hand and anything could come up later, so when it was checked to me I put in a bet of 300 hoping that the others would fold. They both called. I was in a hand with the world champion and maybe I was winning.
The turn card was a 6. I still had the top pair, but there were two hearts on the board meaning that someone might hit the flush on the final card. There was also the chance of a straight, though I hadn't really noticed this.
Hachem bet 1200, the other guy folded and it came to me. I still had top pair, but he could easily have a pair of 9s in his hand or better. Or have two pair. Or an 8 with a better kicker than a Jack.
I was all set to fold, but part of me was thinking that I could well be ahead and I might score a victory over the world champion. "What do you think I've got Joe?" I asked him.
"I think you're on a flush draw," he said, which would explain his biggish bet. He wanted to make it too expensive for me to see the final card. But knowing that he had misread me I thought it would be worth seeing the final card. I felt Hachem was betting too big to have got something really good. Of course he could have a straight and wanted to make sure that I didn't beat him with a flush, but I would still have chips left.
The river was another 8. I had hit my trips. Of course there was still plenty that could beat me, but that's a pretty good hand. Hachem immediately went all in. This was a hand I had never been confident about and I felt fairly sure that the world champ now had something like Ace 8. But then if I called him and lost I wouldn't be out completely and if I called and won I would have not only beaten the best poker player in the world on one hand, I would have knocked him out. I called.
It turned out that my instincts had been right. Hachem had a pair of 5s, giving him two pairs, which my three 8s beat. "I thought you were on a straight draw," he told me as he shook my hand and got up to leave the table. He was the first out of the tournament, but more importantly I had beaten him. I had beaten the world champion, which I think for the night at least makes me the world champion.
It was an amazing feeling. It had happened more through bluster than through skill and of course Hachem was probably not taking this little tourney all that seriously, but you still can't take the achievement away from me. I was buzzing for about half an hour. Also I had doubled up my chips and not in too bad a position in the competition.
As it happened I was not to go on to win. I was pleased with the way I played, but I didn't get many hands and the ones I did get didn't get me too far. I ended up coming about 12th, which I was quite happy with.
All the other players had scoffed at me when I had told them that I wouldn't be able to take the prize if I won. They all seemed to assume that Las Vegas would be more important that Edinburgh. And it was nice to realise that for me it really isn't. Hopefully one year I will get to experience the world series too (though this might well have been my best hope), but for the moment I would prefer to be in a sweaty room in the city that I have spent so many summers of my life in, trying to make people laugh, rather than in a massive room in the middle of the desert trying to win 8 million dollars (though that would pay for a lot of Edinburghs). I am a comedian, not a poker player. Even if, as I write, I am the current world champion.