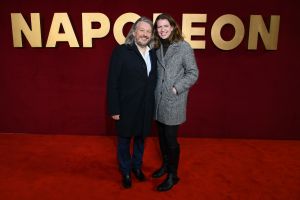 7649/20588
We were going to the premiere of Napoleon tonight and so I put on a suit that I haven't worn for three or four years (due to it not fitting for most of that time). I found £30 in the trouser pocket. Losing weight is really paying off!
We hadn't really appreciated how big a deal the premiere was going to be. I'd done a read for the film for my podcast and sort of thought this was just going to be a screening, but it was the full red carpet affair, with the stars of the film and paparazzi and free popcorn (best bit). I don't go to things like this very often (in fact the last time was possibly Chicken Run back in 2000 or 2001 (pre-Warming Up) - though we did see some forgettable Tom Hanks film at this same cinema (Odeon Leicester Square) just before they redesigned the whole place.
I remember everyone being upset that this historic cinema was getting redesigned back then, but to be honest, it's not very plush inside and miles better. So maybe change is good. Who knew?
Even when I realised the scale of the event I thought that we'd be ushered in the back way, but we had to do the whole thing and multiple pictures. I joked with Catie that when we got in front of the photographers that they'd all just stop taking photos and it'd be awkward, but they politely took our pictures anyway and we both laughed at the ridiculousness of the situation. The autograph hunters did not bother us though.
We were into the cinema pretty early. The film was supposed to start at 6.45pm and I'd worked out that even with a bit of delay that we could still be home to relieve our babysitting by 11pm, but of course those timings were just to get idiots like us in our seats by 6.15pm. It became apparent pretty quickly that we weren't going to be able to stay for the whole 170 minutes. Do movie stars not have baby sitters?
We didn't mind too much. Firstly free popcorn (and prosecco for one of us).
One of the Rolling Stones was a few rows behind us - Ronnie I think - and he had brought his grand daughter with him, which was a nice touch.
And the two hours we saw of the film flew by. I'd have liked a bit more history and a bit less relationship stuff, but the battle scenes were gruesome and immersive and the acting excellent and there's some laughs in there too. Sad to leave just as Napoleon got to Elba, but I am sure he enjoyed a long and happy retirement there. I only did European History post 1815.
It felt weird and a bit rude sloping off early, but I don't think Ridley Scott saw us. The paraphernalia around the event had more or less been disassembled by the time we were back into the cold air of Leicester Square. But even if we'd stayed to the end there would doubtless have been speeches and stuff and leaving then would have seemed even ruder.
One of my guests for the Leicester RHLSTP next year will be the bona fide comedy legend that is Simon Munnery.
Book here