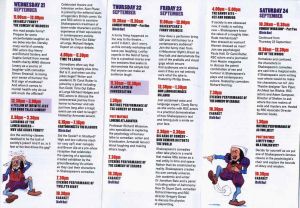 The workshops were fun and I don't think I showed myself up too badly. The first one, was probably the most fun. It was presented by language expert Cicely Berry, who wanted to illustrate the importance of rhythm and speech patterns in comedy. Along with fellow comedians John Oliver and Andy Zaltzman and some real proper RSC actors who had been in the play I saw last night, I was going to be performing some actual bits of Shakespeare on this famous stage. We hadn't really had any time to prepare and I was quite nervous, but Cicely was so in control that it seemed like the most natural thing in the world for me to be be acting on this hallowed stage (and it didn't seem as hallowed as I had imagined, because a sewage pipe had burst backstage and so it smelt a bit ripe - a bit like my acting). I played the first grave-digger in the bit from Hamlet which fails to lead to the line "Alas poor Yorick, I knew him well" (it's "I knew him Horatio" triv fans). So even though I stumbled around the difficult script a little and might not have been the finest actor ever to have graced these faeces coated boards, I can at least put on my CV that I have performed Hamlet at the RSC. And it will be true. Ha ha, beat that Kennedy.
I expect the RSC will be on the phone soon to offer me a part in one of their future shows (I wouldn't mind a crack at Hamlet and think I would be good at it and already know some of the words - "To be or not to be, that is the first and only question on the beekeeper exam" and "Alas poor Yorick, I knew him, Horatio". There can't be too many more.
Later on being told of Shakespeare's use of a trout in a sex gag, I told my own trout sperm joke and felt embarrassed to have mentioned such filth in this salubrious venue, then admitted how stupid this with given the filth that runs through most of the Bard's work.
The chats were really interesting and I especially enjoyed the contribution of Dr Stuart Clark who for the first time made me consider the similarities between the jobs of comedian and physicist. But they are similar. Maybe you had to be there to understand quite how, but believe me it seemed astonishingly similar. He asked a great question to the audience, saying there were two ways the universe might end - it might keep on expanding forever until everything is so spread out that it reaches the same temperature and is so spread out that it s just an infinite sea of dust, or it expands so far, then gravity acts and the universe contracts until it is all at one point and everything ends in the biggest explosion ever. He asked the audience which they would prefer and the majority went for the explosion out of the two apocalypses. He said they always did, concluding that people preferred the drama.